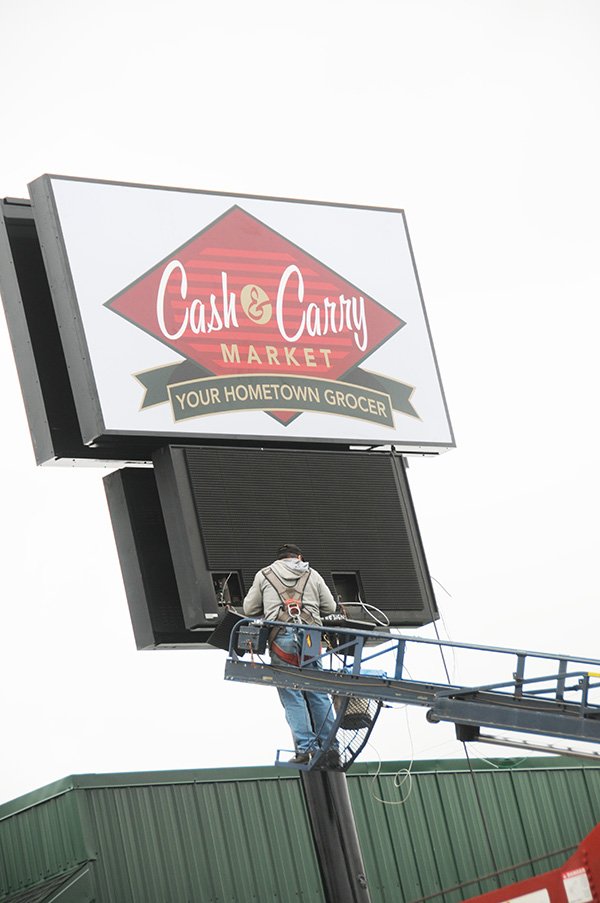 Photo by Lorie Palmer
I Saw The Sign Grangeville's Cash & Carry Foods got its new sign hung Thursday morning, Oct. 3.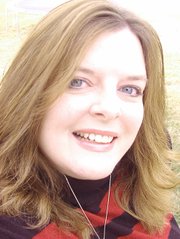 Moonlight Madness hits the Grangeville Merchants this Thursday, Oct. 17. Check out the ads in this week's Shopper and Free Press for details and support our Grangeville businesses!
Stop by Pine Tree Community Credit Union (Grangeville and Riggins) Oct. 17 to celebrate International Credit Union Day. Have some refreshments and put in for a $25 VISA card drawing.
Lewis-Clark State College has several upcoming enrichment classes scheduled.
Life and Death Matters: Writing an Obituary is set for two sessions, Nov. 5 and 12, at Grangeville Elementary Middle School. Dawn Kennedy-Haeder will instruct the class which is set for 6 to 8 p.m. each night and cost is $25.
More Photo Editing with GIMP will be offered by Shiloh Bradley Wednesday, Nov. 6, 6 to 8:30 p.m., at the Grangeville Outreach Center, Cost is $25.
Heavenly Scent – A Soap Making Primer will be offered by Sister Carlotta Fontes at the Monastery of St. Gertrude in Cottonwood. This is set for Saturday, Nov. 9, 9 a.m. to 2:30 p.m. Cost is $54 and lunch is included.
To register for classes call coordinator Carla Nuxoll Wilkins at 983-2164 or e-mail cnwilkins@lcsc.edu.
Everyone is invited to the annual Cottonwood KC Council No. 1389 annual steak fry Saturday, Oct. 19 at the Cottonwood KC hall between 5:30 and 8 p.m. The menu is your choice of a 12 ounce ribeye steak ($16 each), chicken breast ($12), or hot dog ($4) cooked on a grill. Meal includes baked potato, vegetable, dinner roll, salad, dessert and beverage. Make your reservations on or before Oct. 16 by calling Neil Bruegeman at 451-5280 so they know how much food to buy. Proceeds will be used to support Tri-Parish youth going to ICYC, Pro-Life Billboards, and K of C and its charitable causes.
Camas Prairie Preschool thanks the community for their support regarding their garage sale. Their goal was $300 and the event raised near $900! A special thanks to Heather Newson for all her work. Money will go toward teacher salaries and for supplies at the co-op.
A couple of weeks ago, Outdoor Idaho on PBS focused on the "US Forest Service losing its way." It was interesting in many ways. I especially enjoyed seeing Grangeville's Bill Higgins with Idaho Forest Group interviewed.
Kyle Westhoff, DPT was chosen as the October Employee of the Month for St. Mary's.
Westhoff received his bachelor of science in physical education-sports science from the University of Idaho and his doctorate of physical therapy from Eastern Washington University. He also received training in selective functional movement assessment in 2013. He is a graduate of from Prairie High School.
When not working, he enjoys skiing, camping, coaching baseball and supporting the Prairie Pirates. He and his wife, Whitney, live in Greencreek.
If you weren't at the Kids Klub Fall Festival Fund-raiser at the Elks Saturday night you missed a great time. The food – all made by Nancy Thompson – was top-notch. The variety show was fun and the costumes were great. I had the honor of performing my first-ever dance, Thriller, with a great group of ladies of all ages. Even though I am not a dancer they still let me be in the club and it was a lot of fun! Thanks to Wendy Lindsley for organizing the show. And a big thanks to everyone else who helped make the night a success.
Thanks to all who donated and volunteered with the GEMS PTA jog-a-thon. More than $6,000 was raised by the community to help with various GEMS programs and needs.
Mark your calendars: Idaho County Light and Power Cooperative Association, Inc., will hold its 75th annual membership meeting in Grangeville, Thursday, Nov. 7. Registration will begin at 11 a.m. followed by a luncheon at noon at the Grangeville Elks Lodge. All ICLP members are invited to attend.
Elk City Saloon would like to thank the community for their participation and coming together to help with the Pixie Walker benefit action. "A special thanks to Ms. Tow and her fabulous Reach Club for making the tie-dyed T-shirts for us to sale, and to Chris Thompson for washing and hanging them all. We still have a few shirts left for sale if anyone is interested. All in all we were able to raise approximately $1,100 to help pay for funeral expenses for Pixie. We are truly a caring community," Anita Mae said.
The saloon will host its hunter's appreciation night Oct 18. Prime rib and seafood dinner specials will be served starting at 6 p.m. with karaoke at 8 p.m. Halloween will be celebrated the following Friday, Oct. 25, with the costume party.
Krazy Kora's Photos will be taking Halloween portraits. Appointments will start Oct. 26 and run through Halloween. Call 507-2120 details or to set up an appointment. Prices start at $5.