3Rivers Amateur Radio Club
On Sept. 12, a work party was held at the club repeater site on Kidder Ridge. Concrete forms and reinforcement were completed in preparation for pouring concrete for the 50-foot tower base and guy anchors. Concrete will be poured when the rain stops, hopefully before the next club meeting.
Examinations for the amateur radio license will be given before the meeting. For examination information call Alan Justesen at 937-2222. For club or meeting information call Bob Finch at 935-8586. Visit the 3Rivers Amateur Radio Club website at www.3Riversarc.webs.com.
—David Brainerd
Cottonwood Senior Citizens
Dolores G. Seubert opened the Oct. 8 meeting with the Pledge of Allegiance and Joyce Forsmann gave the dinner prayer. There were 50 meals served with 15 takeouts. Bob Arledge won the free dinner. There were no guests this week. Joke tellers were Dolores VonBargen and Eleanor Hinkelman.
Judy Arledge won the nickel bingo pot while Katie Remacle won the blackout pot. Door prizes were won by Gen Broker, Dolores Seubert, Rose Gehring, Ingrid Mader, Dolores VonBargen and Pauline Frei.
Menu for Oct. 22: lasagna, green beans, tossed vegetable salad, garlic bread, fruit cocktail. The Fiddlers will also be there to play for the birthdays in October.
Grangeville Senior Citizens
Monday, Oct. 7, opened with the Pledge of Allegiance led by President Stan Modrell and the prayer by Alice Rickman. Ruth Amstutz won the free meal. There were 71 meals and 33 home-delivered meals served. Birthday celebrated for Lewis Endsley and 70th anniversary for the Ken Knapps. Bingo nickel pot was won by Katie Remacle and also blackout.
Friday, Oct. 11, opened with the Pledge of Allegiance led by Stan Modrell and the prayer by Orville Biggers. There were 72 meals and 30 home-delivered meals served. The free meal came to Roberta Gibbs. Dale Morgan brought part of a truckload of potatoes offered to all and the kitchen. The bingo nickel pot was won by Donna Hazelbaker and blackout by Nancy Edwards and Mel Willis.
The menu for Oct. 18: roast pork, dressing, broccoli, applesauce, strawberry and vanilla pudding and the fiddlers will play; Oct. 21: tuna and rice, green beans, mandarin oranges, pumpkin roll and roll.
Valley Garden Club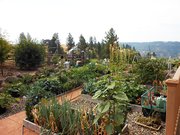 Fourteen members and guest Debbie Brotnov enjoyed a potluck salad luncheon and a scrumptious Cheryln Pankey dessert prior to the Sept. 17 meeting at the Harris Ridge home of Rick and Lu Eckhardt. Members voted to donate $100 for supplies for the CV Elementary Fall and Winter garden. The project chairman is Jean Carroll. Members were thanked for their generous food and produce donations which they bring to each monthly meeting and are distributed to the Kooskia Food Bank and the Emergency Feeding Outreach in Kamiah. The club's cookbooks, gloves and T-shirts will be available for purchase. The Highway 12 litter pickup date is Oct. 31. All volunteers are to meet at the Kooskia kiosk at 8 a.m. for instructions from Chairman Lenette Smith.
Our next club meeting is Oct. 22 at the home of Lois Frantzich in Kamiah. The meeting begins at 11 a.m., and please arrive in Halloween costume.
—Lorraine Smith