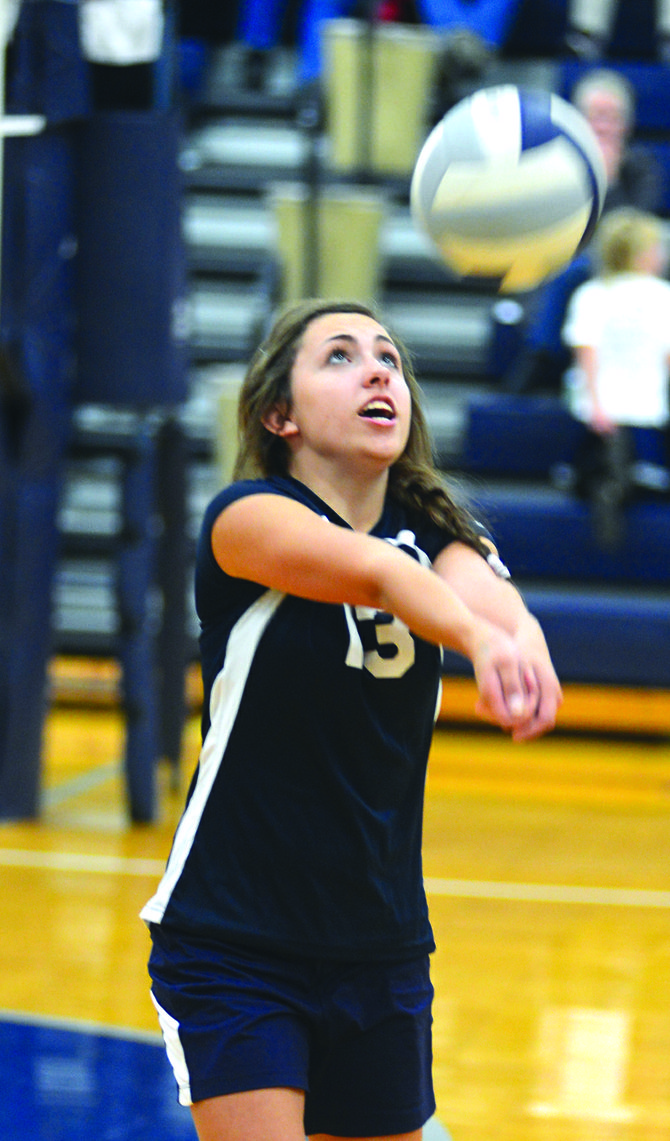 Photo by Andrew Ottoson
Summit Academy's Rachel Waters plays a free ball over to GHS during Grangeville's Oct. 10 home win (25-12, 25-17, 25-21). Summit's district run will begin at 5:30 p.m. Oct. 19 at LCSC.
St. Maries — Despite splitting with Orofino earlier this year, Grangeville had the inside track down the back stretch of the Central Idaho League title chase. The Bulldogs had already once beaten longtime powerhouse St. Maries, which hosted a league tri-match last Saturday, Oct. 12. But when Orofino got even in the standings with a win over St. Maries, Grangeville needed to beat the hosts once more to claim the CIL title.
And the Bulldogs very nearly battled back from first-game loss, forcing a fifth set tiebreaker to end the match, which St. Maries ultimately claimed (25-22, 22-25, 12-25, 25-22, 15-10).
"We played well during this match, but our large amount of mistakes and errors in the end cost us this match," coach Kelcey Edwards said.
The Bulldogs cleaned up their play against Coeur d'Alene Charter, which Grangeville whipped in three straight (25-20, 25-19, 25-11).
"I was proud of the way the team played after playing a tough five set match earlier in the day," Edwards said.
Against Charter, leading hitter Chantel Key posted 16 kills — more than five per game — with setter Hannah Baker providing 17 assists.
Against St. Maries, Key put up 25 kills (again, five per game) and Baker's assist rate reached nearly seven per game.
For the day, Hailey Sullivan (13 kills), Addie Lutz (13 kills) and Madison Brown (7 kills) also delivered on their hits.
Dig Pink at CV
KOOSKIA — Grangeville won the match on the court (25-17, 25-22, 25-16) last Monday night, Oct. 14, but both teams came out ahead in the annual cancer research fund-raiser.
"This was a fun game to play in and it was for a great cause," Edwards said.
Coming — Grangeville (20-7) will have the second seed in the district tournament, slated for the week of Oct. 22 in Moscow.
They'll meet St. Maries in the first round at 5:30 p.m. With a win, GHS would play Orofino or Charter at 4 p.m. Oct. 24.