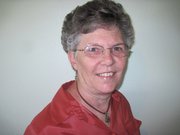 Cottonwood — A benefit dinner and auction for Madison Duman will be held Sunday, Oct. 20, at Prairie Elementary School, from 4:30-7:00 p.m. Live and silent auction items will be available. Madison was born with biliary atresia, heterotaxy and polysplenia which require surgery and on-going medications. Madison is the daughter of Nate and Kelsie Duman.
Second Hand Treasures in Fenn is announcing new store hours. They will be open Tuesday through Saturday from 10 a.m. to 4 p.m. This is a store where you can find almost anything if you go at the right time. It benefits Summit Academy. Fifty percent off everything on Oct. 19.
Kelly Turney is the Student Artisan for the month of October. She is 17, entering her senior year as a home schooler, and is from White Bird. Kelly received the "Miss Congeniality" award at the Fair Royalty crowning this year. She is the daughter of Bob and Ellie Turney. She has won grand champion in fitting and showing four times and obedience three times with her dog, Sunny. Kelly is president and co-founder of Cornerstone Theater in Grangeville. They perform one or two plays a year with the proceeds from the performance going to charity. She is a multi-talented young lady as you can see if you visit the library. She brought in samples of photography and art work.
Assumption Parish dinner, bazaar and raffle is scheduled for Nov. 3 at the Assumption Parish Hall. Mark your calendar! This is a tasty beef and turkey dinner with all the trimmings! Tom and Millie Wimer are the co-chairs for the dinner this year. Call 962-5197.
The entries for Bräts and Brew Fest are coming in. Last date to enter or donate auction items is Oct. 21. That gives us a week to get organized. We should have a nice variety of foods for you to taste. If you want to vote and help pick the winners, you may do so. If you do not want the job of deciding which is best, you may just enjoy your meal and not mark your ballot. We want everyone to enjoy their time spent in Germany (just for one night).
The other day I came over the hill into Greencreek and, lo and behold, I saw what looked like an Amish four-wheeled wagon slowly crossing the road. My first thought was, "I didn't know we had Amish in Greencreek." It turned out to be Mr. Ed pulling two lawn carts filled with lawn clippings over to the dumpster.