You had to be perfect to win the $20 gift certificate this week, and Micheal Doughty went 12-for-12 with his entry, separating himself from a five-way tie for second place at 11. The luck of the draw was with Brian Lorentz, who gets Week Six's second place gift certificate.
---
Last week's results: Salmon River swamped Council, Firth skewered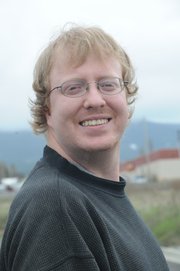 Salmon, West Side flattened Malad, Genesee clocked Potlatch and Bonneville bested Pocatello in the High School games — and most everyone who entered had all five.
In the college games, LSU beat Florida, Boise State beat Utah State, Slippery Rock beat IUP and Oregon handled Washington.
In the NFL games, Cincinnati beat Buffalo, Kansas City beat Oakland and San Francisco beat Arizona.
In this week's high school games, give me Prairie, Salmon River, CV, Lewis County and Raft River. I'll go with Clemson, Valley City State, Missouri and South Alabama in the college games.
In the NFL games, put me down for Tennessee, Green Bay and Detroit. (The entry form is on 2B.)
---
We hope all the hunters out there had a weekend at least as good as Justin Mignerey's — check out his whitetail below. And thanks again to Justin for contributing his photo — not everyone is willing to put their picture in print. (Fair enough.)
A surprising number of newspapers — even in hunter-friendly areas — are unwilling to print hunter success photos for various reasons. While it is a free country, we think including hunters is obviously the right thing to do.
Successful hunts are major life moments for many, many people in this community.
Just as we see fit to mark births and marriages as traditional milestones, we think it's entirely appropriate to recognize the first hunt's place as a right of passage.
Consider Laura Fischer, whose picture we printed last week. We put the wrong name in (sorry about that, Laura!) but her dad, George, who is a game warden, informs us she "is having fun telling her buddies it's not her big sis in the paper but her."
"A first turkey is a huge thing in a 10-year-old's book of life accomplishments," he reminds.
We agree and we appreciate the opportunity to publish every photo of every big buck and big bull.
We talk about them as brag photos because they are portraits of individual success. We can understand why some people prefer to keep brag photos to themselves.
Hunter success photos also reflect well on our area. If Idaho County is a secret, surely people who love living here can disagree about whether it's better to keep quiet or to shout from the mountaintops.
The way I see it, the purpose in printing these pictures is not primarily promotional, for individuals or our area. It's a way of connecting with our neighbors, who are too often outside our usual circles.
The way I see it, contributing is mostly about getting to know each other: what we're up to and what we care about. It's about declaring values we hold and share.
---
We'll be looking for contributions to our Brag Board all season long.
Bring Brag Board photos by the office, send 'em to aottoson@idahocountyfreepress.com, or contact us at 983-1200.
We're also looking to write up all the great hunting and fishing stories readers care to share. And if anybody is shut out of a preferred hunting area by red tape involved with the government shutdown, we'd most certainly like to hear about that, too.