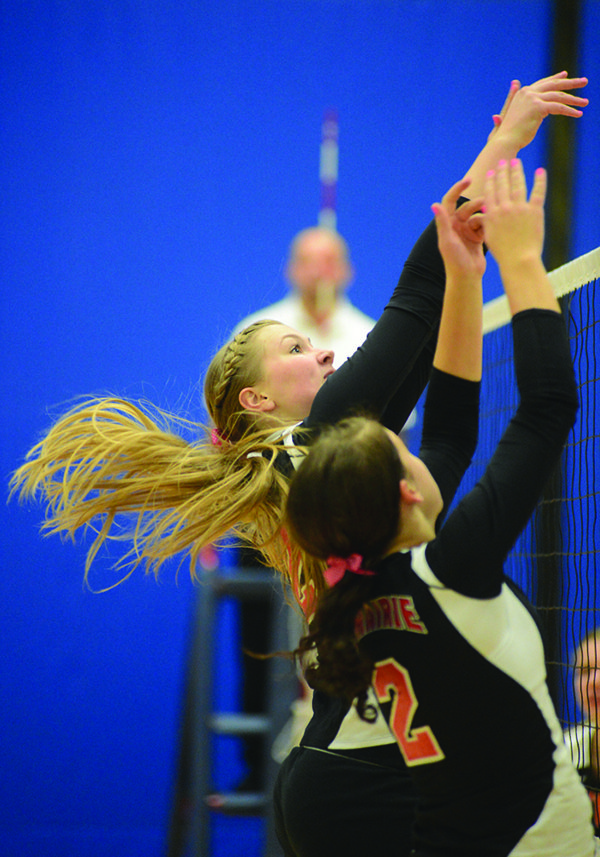 Photo by Andrew Ottoson
Prairie's Kayla Schumacher (left) and Natasha Gimmeson challenge a hit by Troy during the 1AD1 District II volleyball on Oct. 21.
LEWISTON — The Prairie High School volleyball team tore into Troy with a vengeance last Monday night, Oct. 21, leading the first game of its district tournament match by 20-14 before Troy cycled into its most potent formation.
After tall freshman Abbey Blum rotated into the front row at 20-15, a run of PHS errors allowed the Trojans to even the game at 21-21.
Kills by Leah Holthaus and Hailey Danly restored Prairie's lead to 23-21, and another hard hit put PHS on game point. But the Trojans won the next five points in a row on a combination of Prairie's shanks, lifts and their own heavy hits. The match slipped away from the Pirates (26-24, 25-13, 24-26, 25-12).
During the third game, Shayla VonBargen booked an early kill and followed with an ace, lifting PHS to a 5-3 lead, which grew to as many as 23-17 for Prairie even as the lead shifted back and forth.
Blum delivered what looked to be the decisive shots as Troy again charged up from behind late in the game. As Prairie scrambled during a long rally, Blum scored on a free ball, two-handing a shallow putback into the Pirates' vacant front row to tie it 24-24. Behind Holthaus, Prairie somehow recovered to win the game, but trailed the match 2-1.
Troy surged to 11-5, then 17-11, then 23-12 in the fourth game.
Prairie's tournament will continue at 4:30 p.m. on Wednesday, Oct. 23, at LCSC.