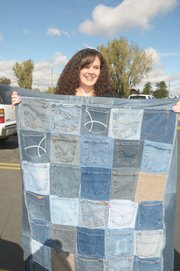 Get your enrichment on with Lewis-Clark State College Grangeville Outreach classes.
Sumi-e Asian Ink Painting will be offered in two sessions Nov. 11 and 18, 6:30 to 8:30 p.m., at Grangeville Elementary Middle School. This will be instructed by Kim Kidd-Rodriguez and cost is $30.
Basic Welding will be offered at Grangeville High School by Lindsey Stephens at GHS in two sessions Nov. 12 and 14, 6 to 9 p.m., at a cost of $60.
Phil Jahn will instruct the course Outfit Your Own Alaskan River Trip Wednesday, Oct. 13, 6:30 to 9 p.m., at GEMS.
To sign up for classes call coordinator Carla Nuxoll Wilkins at 983-2164 or e-mail cnwilkins@lcsc.edu.
•
I recently read an article in Sports Illustrated for Kids which discussed how many parents feel a child should start early with one sport and focus on that sport. However, recent scientific studies have shown letting kids explore and participate in a variety of extracurricular activities will actually help enhance their skills and not reach an early plateau.
In the same magazine's October edition I read a story about height in the NBA. There are players who are not tall but what they have going for them — aside from being agile and excellent players — is lanky limbs. Many of the shorter players (5'8" range) have huge wing spans. Nice to know — it's not all about height. So, keep dreaming, kids. Keep playing whether it's in elementary, middle or high school or in a neighborhood pick-up game that one day leads you to play at the college or professional levels or on a city league. If you love basketball, then play.
•
The pee wee basketball camp held the last two Fridays at GEMS was a success with more than 40 kids participating and proceeds split between Kids Klub and Michelle Barger's AAU team. Thanks to Cash and Carry, Subway, Yummyz, and Tracy Bush for donating prizes for the participants and for sponsoring this event.

•
A Halloween costume party is set for this Friday, Oct. 25, at the Elk City Saloon. The community is invited to participate.