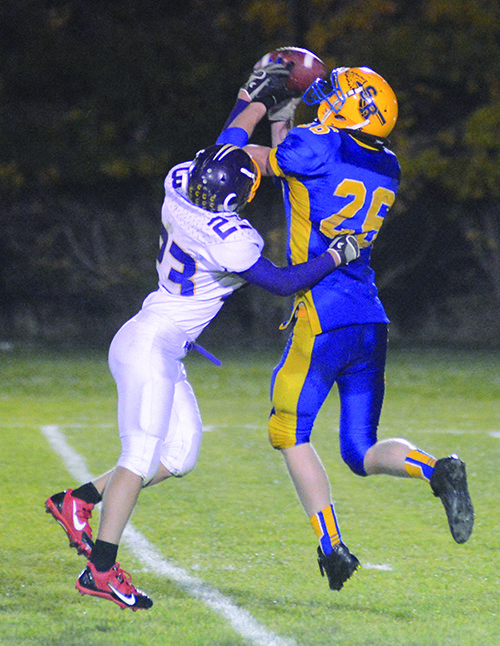 Photo by Andrew Ottoson
Salmon River offensive back McCoy Hale made a tough catch on this pass from Jimmy Shepherd (not pictured), then broke away from the defender for a 38-yard score late in the third quarter of the Savages' conference-clinching blowout win over Garden Valley last Friday night, Oct. 18, in Riggins.
Riggins — Salmon River stuffed a fake punt on fourth down early in a 56-8 victory over Garden Valley last Friday night, Oct. 18, and the Wolverines did not dare question the Savages' dominance again during the ball game.
Garden Valley put a brief scare into the Salmon River sideline when a collision deep in the Wolverine secondary left stud athlete Leighton Vander Esch limping away from the site of an incomplete pass during the second quarter.
And Garden Valley did avoid a shutout — an ignominy Salmon River has inflicted on three opponents in the course of doling out seven mercy rule routs in eight games thus far.
Salmon River built a 44-0 lead and would have ended the contest with more than four minutes left in the second quarter had the point-after kick not failed.
The Wolverines finally scored on a passing play that forced a third quarter — but Salmon River answered with a 38-yard bomb from Jimmy Shepherd to McCoy Hale that left no doubt the Savages would end it early.
After the intermission, Vander Esch quashed any doubt about his health and notched the final score with a 32-yard touchdown catch-and-run.
Before the game got out of hand, wide receiver Terrun Zolman put on a show. On Salmon River's first possession, which began at Garden Valley's 20 thanks to the ill-fated fake, the Savages misfired on three straight passes before Vander Esch found Zolman for a score.
Garden Valley flushed Vander Esch out to his right, where he escaped pursuit and threw back to Zolman, who was so wide open on the left side the scramble seemed it may as well have been designed.
Garden Valley stopped the Savages next series after a fourth-and-four, but immediately handed Salmon River the ball by way of Vander Esch's interception. The next play, Zolman, again, broke away from coverage to catch a touchdown pass — this one of 32 yards.
The next three Savages touchdowns went to Jimmy Shepherd, who ran for two and caught one. Shepherd then threw one to Vander Esch, sprinted 40 yards to the end zone down the visitors' sideline.
Coming — Salmon River (8-0, 5-0) will host Tri-Valley on Oct. 25. SRHS will be the district's top playoff seed, but will not have a first round home game.