White Bird — Thank you God for the amazing weather we've been having. It's been perfect, especially for hunting and fishing. You know it can change in an instant, so enjoy it while it's here.
Heckman's barn burned to the ground last Saturday. What a shame. They lost some hay and a tractor, but nobody was hurt. Thank you to all the wonderful volunteer firefighters who put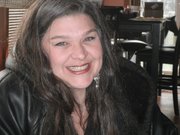 everything aside and fought fire all day to help your neighbors. We are so grateful for you.
This weekend is the big weekend! The Halloween party at the IOOF hall will be from 6-8 p.m. Show up with your kids dressed in their best costumes for the costume contests. There will be games and prizes. Hot dogs and refreshments will be served. Don't forget to bring a decorated pumpkin. Adults and kids, there is no age limit. Be creative. You can either carve it, paint it, bling it, or dress it up in a costume. Whatever you want! There are cash prizes for the judges' favorites. Also, bring some sort of contribution to the cake walk if you can. When there are no more goodies to give away, the game is over, so help out. Darla said that she could still use some volunteers to help out with the games. Give her a call at 839-2205.
If you still need a costume, check out the White Bird Antique store. Bruce and Pat have some ideas for you, and you never know what you'll find in their great store!
Just Teasin', your local beauty shop is also available if you need some sort of funky hair for Halloween. Maybe you'd like to have some color stripes put in your hair, or maybe you could just use a haircut. Call Bessie for an appointment at 839-2243.
The winter cribbage tournament will kick off this Saturday at the Silver Dollar. Show up a little early to get signed up and ready to play cards at 2 p.m. Everyone is welcome.
Happy birthday this week to: Wilma Erne, Edith McKnight, Todd Martin, Pim Hoogland, Linda Bailey, Kelly Turney, Amelia and Ellie Marek, Jack Ray, Joseph Fulford, Cody Black, Kelly Howard, Maggie Abbott, Mike Stickles, Doug McCool and Katherine Barham.