Kooskia — KOOSKIA — Kooskia Recycling Center is going to be closed for Halloween on Thursday the 31st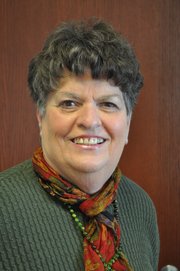 of October, but open every Thursday thereafter at the new winter hours of 3:30 to 5 pm. They are celebrating over 2 million pounds of recyclable collected – that's 2 million pounds of recyclables not in the landfill. Thanks to everyone for helping to make this possible and happy Halloween. They are also currently seeking volunteers to help at recycling center, call Liz at 926-7231 if you can help or have any questions.
The Friends of the Kooskia Community Library are putting on the Fall Annual Used Book Sale on Saturday, Nov. 9, at the Kooskia Community Center from 9 a.m. until 2 p.m. All paperbacks are 50 cents, hardbacks are $1. They tell me that they have books for sale at the library all the time for this same price; however, go to the sale and get first pick.
The Big Cedar Homemakers are now taking orders for their beautiful Christmas Swags. Each swag consists of the following: evergreen boughs — red fir, white fir, cedar and pine. Attached to each swag are three large pine cones and a huge red bow. Money raised from the sale of the swags is used to support the Tahoe Quick Response Unit, the Ridge Runner Fire Department, and several other community projects. Swags are $10 each.
If you would like to order a swag, call Gayle Tucker at 926-4931 by Saturday, Nov. 9! Swags will be delivered (Kooskia, Kamiah, Stites and Grangeville) on Nov. 21 and 22, just in time for Thanksgiving!
They are a tradition in our area, and the money raised stays in the community, and helps with worthy causes.
Sterling Bank in Kooskia is now hosting its annual food drive for the greater Kooskia area. The Clearwater Valley Food Bank serves Kooskia, Stites and Clearwater areas. The non-perishable items can be dropped off at the Kooskia branch through November. The food bank generally serves well over 100 families.
Sterling Bank Kooskia Branch will also be hosting its second annual Tree of Sharing. Beginning Nov. 4 parents may sign up their minor children (under age of 18) for the sharing tree. They must live in the surrounding areas of Kooskia, Stites and Clearwater. The gift limit is $25 per child. Parents must register their children for the sharing tree from Nov. 4 and no later than Friday, Dec. 6, at Sterling Bank in Kooskia. All gifts purchased for the sharing tree must be turned in no later than Friday, Dec. 13, and all parents must pick up the gifts no later than Friday, Dec 20. Last year the Kooskia sharing tree was able to help 78 children in our area. This is a great way to bring joy into the lives of so many.
The 25th Harpster Christmas Fair, which will be held Saturday, Nov. 2, at the Harpster Community Hall from 9 a.m. to 3 p.m., will feature, hot lunches, pies and desserts, free coffee, free admission and many great vendors. The 50-50 raffle will be available, for $1a chance to win (half the money to the building fund and half to one winner). A new raffle, "pick your prize," tickets are $1 each or $5 for six chances. You can choose the prize you want from eight donated prizes — crystal glassware to a free dinner. All profits from rental, food sales and raffles will go into the Harpster Community Hall Fund, to run the 107-year-old meeting/voting place.
The Kooskia Arts and Crafts Fair at the Old Opera House will be held Saturday, Nov. 9, from 9 a.m. until 3 p.m. Mark your calendars and get the jump on your holiday shopping.
What's happening this week: Kamiah Senior Center serves meals on Monday, Wednesday and Friday, starting at noon. They have music on Monday and Friday at 11 a.m. Schedule a mammogram at the Kamiah Clinic, 935-2585. Mammograms are by appointment and are done the second Wednesday of each month; remember this is Cancer Awareness Month. You will not want to miss the Farmers' Market in the Kamiah Mini Mall at 411 Main Street, 10 a.m. until 2 p.m. Lots of end of season fruits (apples), vegetables and baked goods. Public welcome and everyone is invited to sell their fruits, baked goods and vegetables. Call My Health Food Store at 935-2310 to sign-up for a space or get information.
Thursday is Halloween, be very careful driving as there will probably be lots of young people out trick or treating and you need to watch for them on the streets and roadways. If you know or make news, give me a call.