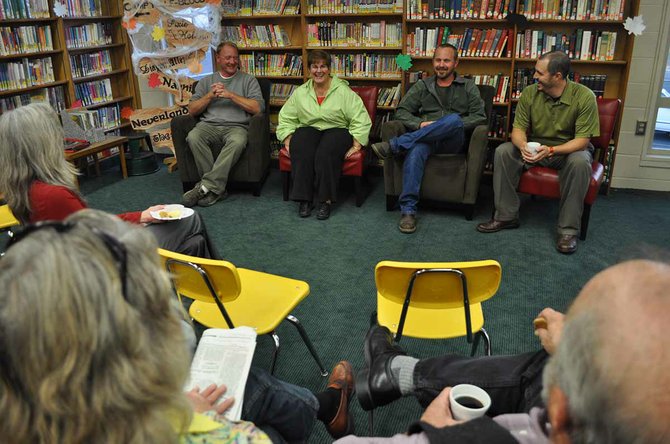 Photo by David Rauzi
Candidates for next week's Grangeville City Council race share a lighthearted moment at a meet-and-greet event held last Wednesday, Oct. 23, at the Grangeville Centennial Library. Pictured are (L-R) incumbents Wes Lester and Beryl Grant, and newcomers Scott Winkler and Tony Ellis. These four are vying for three four-year-term positions on the council.
Grangeville — Informal and intimate: Last week's candidates' meet-and-greet drew just 10 people for an hour of one-on-one conversations followed by a handful questions with four individuals – incumbents Beryl Grant and Wes Lester, and newcomers Tony Ellis and Scott Winkler -- seeking three four-year-term seats on the Grangeville City Council.
What is the balance between city wants and needs? Comment was raised on ways to improve minor recreation amenities such as travel for pedestrians and bicyclists, and for park improvements. Ellis agreed, noting the need for kids' offerings and activities especially during the summer. Grant expanded on the topic that creating and maintaining these amenities are not just a council responsibility but also that of the community.
"All of this is good," agreed Lester, but with offerings such as the city pool and Lions Park – both private, grant-funded projects that were then turned over to the city – it is left to the municipality to then maintain these while balancing funding priorities for such essential infrastructure as streets.
"It takes a community to run a community," Grant said, noting the problem – which she has also observed with the chamber of commerce -- that people want or expect certain offerings or activities, however, they expect others to maintain them.
On qualifications, similar between the four was the commitment each had to serve the community. Grant was appointed to the council early this year and has found her service very interesting; she noted her banking career as an asset to benefit the city. Lester has served 16 years on the county, and prior served a term on the city's planning and zoning commission; he has dealt with ongoing issues such as deteriorating infrastructure and wastewater plant regulatory issues. Winkler believes strongly in service to the community and has been on the Grangeville Border Days Committee for 10 years. The self-proclaimed "new guy," Ellis has lived in town nearly six years, is the owner of Gem Design and has served on the Grangeville Country Club board; he was impressed with the positive spirit and friendliness of the community when he moved here and wants to continue to support that positive city attitude.
Ellis spoke on the need to encourage business growth that encourages younger people and young families to stay in the community, which in turn creates more local economic opportunity. Jobs were a local need seen by Winkler, and Grant spoke on the responsibility to maintain city infrastructure. Lester addressed questions about the wastewater treatment plant, noting the hard reality that higher utility rates pay for system improvements mandated by the EPA – which he said doesn't care about the financial impact to this low-income community – and that this is likely to continue.