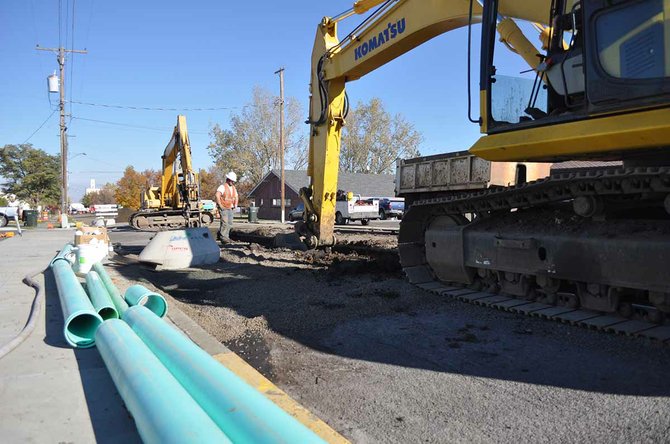 Photo by David Rauzi
Crews with Western Construction of Lewiston Inc., were on North B Street just north of Syringa Hospital in Grangeville last Thursday, Oct. 24, replacing out six-inch diameter clay sewer line with new eight-inch diameter PVC pipes.
Grangeville — It's been blocking up a few streets on the north side of Grangeville, but motorists can take heart the $383,795 sewer line replacement project is nearing completion, likely within the next two weeks, and that the asphalt patching will be completed by mid-November. All of that, however, is pending the mood of Mother Nature.
"A lot depends on the weather this time of year," said Bob Mager, foreman, Grangeville Public Works Department. At this time, progress has been moving to schedule, and "so far we've been getting a pretty good product."
Western Construction of Lewiston Inc., started work Sept. 9 on replacing approximately 3,000 linear feet of deteriorated six-inch diameter clay sewer mains with eight-inch PVC lines, as well as several manholes. Project funding is from USDA Rural Development grant monies left over from phase one of the overall $4.4 million wastewater treatment plant improvement project.
Infiltration was the key driver for the project, addressing the ground water that was leaking — and in some cases gushing — into the mains and taxing the wastewater treatment plant's capacity capabilities.
Addressing the Grangeville City Council last week, Oct. 21, Public Works Director Jeff McFrederick said the sewer line improvements so far have been very noticeable at the receiving end: the wastewater plant. As an example, line replacement on North Hall Street near the bowling alley addressed an area where ground water was literally shooting into the system; once that was fixed, the flow was significantly lower at the plant.
"We're treating a lot of water when we shouldn't be," McFrederick said.
The city's wastewater plant is designed to receive 1.5 million gallons per day. Daily average is about 600,000 gallons, but on a rainy day that can spike up to three million. More than just exceeding the ability to treat that water, the city faces a secondary problem in potential EPA fines if treatment capacity is exceeded for an extended period of time.
McFrederick said addressing infiltration and also inflow, such as business and residential storm drains being plumbed into the wastewater system, is ongoing, and the sooner the better.
"It only gets worse; it doesn't get better," he said.
Mager talked about the project last Thursday as he was monitoring Western crew's progress on line replacement on North B Street adjacent to Syringa Hospital. Here, problems were the typical: sagging, wobbly clay lines with joints at every three feet, and a deteriorating brick manhole. Crews were changing out the clay with 14-foot-long sticks of PVC pipe and laying these at a slightly increased grade to improve flow rates.
It's a constantly monitored process at each step: lines are pressure tested, video inspected, and gravel compaction is checked, as is the asphalt patch and whether the line is at the right grade. Crews in the trench and running machinery have to be on their game, according to Mager, as an insufficient test in these areas stops work to dig out the problem. Replacement work is set back, all with the clock ticking on a rapidly closing construction window before the arrival of winter temperatures and snow.
As well as reducing the amount of wastewater the plant has to handle, main improvements will also reduce the callouts for public works crews to dig up streets for line problems according to Mager.
"And ultimately," he said, "we'll be getting a great product at the end of the run."