White Bird — It's time to get prepared for the White Bird Medical Relief and Emergency fund-raiser. The chili cookoff will be Sept. 28 downtown. There is a sign-up sheet at the Silver Dollar or you can call any volunteer and let them know that you want to participate. There is a $20 entry fee. There are going to be some great prizes you won't want to miss out on. All chili must be cooked on site; however, you can soak your beans the night before. After the judging of the chili, around 1 p.m., there will be a $5 dinner that will include all the chili, chili dogs, cornbread and dessert.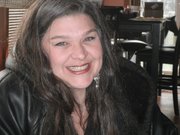 There will also be a beer garden.
A raffle will be drawn at the cookoff also. You could win two cords of wood, one load of gravel or a Life Flight membership! Bring your neighbor and share a meal with your community, in support of a really great cause.
There will also be a yard sale behind the Silver Dollar at the storage units on Sept. 28. So, while the chili is cooking, you can go shop for treasures. This would also be a great day to check out your local White Bird Antiques and Canyon House. Pat and Bruce have gone to many auctions and shopping trips, so go see what they've got, and all the great stuff we found at the Seattle gift show for Canyon House is coming in daily. There are all kinds of great deals to be found!
Guess what? Mac's is now serving breakfast! Woo hoo! It's about time! I don't know about the rest of you, but I'm so excited. Today was the first day they were open for breakfast. They are asking that we all come in and let them know what we'd like to see on the menu. They would appreciate our input and are looking forward to serving the early birds around here. For information you can call Mac's at 839-2600.
The Salmon River Art Guild extends an open invitation to all regional artists, 18 and older, of accepted fine media to enter the 2013 Regional Art Show in Riggins, in October at the Salmon Rapids Lodge. Prize money of up to $1,175 will be awarded in the following categories: oil/acrylic, watercolor/water media, other (pastels, drawing, mixed), sculpture, photography (landscapes) and photography (other). Enter any subject matter. The event judge for the show this year is Steve Henderson. Steve is a Pacific Northwest artist who sells and shows his work internationally. The public will be invited to view the show at the Salmon Rapids Lodge in Riggins on Saturday, Oct. 11, from 8 a.m. – 5 p.m. (MDT) and Sunday, Oct. 13, from 8 a.m. – 3 p.m. (MDT). For information on rules and regulations call Gloria Teats at 839-2305, Nancy Gresham at 839-2493 or Kathryn Van Acker at 839-2808, e-mail: srag.idaho@gmail.com.
Happy birthday this week to Sharon Wisenor, Pete Lucarelli, Jeff Bolander, Kim Johnson, my wonderful new neighbor Dianne Crea, Addyson Eller, Greg Taylor, Tom Marek, Joni Trivett, Jerry Early, Tommiann Whitten Day and April Brown.