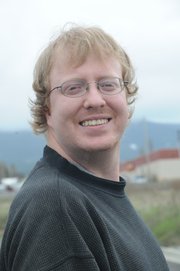 Week two: Courtright, Schlieper nab prizes
Week two is in the books and Lee Courtright — who just barely missed a win in week one — took first prize last week with another nine correct picks. We had a four-way tie for second place this week, and Terry Schlieper out-drew the crowd for second prize this week. (Come pick up your prizes at the Free Press office, guys.)
Reece Wimer, Mike Connolley and Mary Beth Meyers also hit eight apiece this week, but they have some ground to make up in the season total column. Brian Lorentz, Gideon Roberts, Courtright and myself have the high totals after two weeks.
It's by no means too late to get going. All the prizes are for weekly winners. The season total is just for bragging rights, and the leaderboard is prone to big weekly swings, as we saw in the intra-office entries.
McNab, who had nailed 11 during week one, whiffed on six last week. Nona and Judy both made better marks than the publisher, and Linda and Jolene each matched his score.
Promotions all around!
I misfired on Lapwai, North Greenville and Miami last week.
Last week's results: Clearwater Valley beat Timberline, Lapwai beat Potlatch, Orofino beat Kellogg, West Valley beat Moscow and Prairie beat Genesee in the high school games.
In the college games, Boise State topped Air Force, Stanford topped Army, Navy topped Delaware and North Greenville topped VMI.
In the NFL games, was there anything more predictable than Seattle smacking down San Francisco? Nearly 90 percent of everyone who entered this week picked the Seahawks.
The Kansas City win over Dallas and the Miami win over Indianapolis proved much trickier to call.
In this week's high school games, give me Prairie, Salmon River, St. Maries, Highland (Pocatello) and Grangeville.
I'll take Boise State, Washington State, Mayville State and Texas A&M in the college games. Put me down for Detroit, Baltimore and Seattle in the pro games. (The entry form is on 8A.)
I'm 50/50 on a few of these games, so I'd be very happy to wind up with nine correct picks for the third week in a row. But that's counting my chickens before they hatch.
Of special interest in outdoors news this week is the September wolf trapping class schedule.
The material to be covered includes wolf management, wolf trapping regulations and ethics; wolf habits and behavior; making, rigging, and setting traps and snares; proper care for a wolf; and reporting requirements.
Wolf trapper education classes in the Clearwater Region are scheduled 9 a.m.-5 p.m. for Friday, Sept. 27, at the Forest Service office here in Grangeville. The last wolf trapping class of the fall will be Saturday, Sept. 28, at IDFG's Clearwater Regional Office in Lewiston. Cost is $8 per student. Preregistration is required, either through fishandgame.idaho.gov or by contacting a Fish and Game office, 799-5010.
We're putting together our annual Hunters' Almanac and we'll be looking for contributions to our Brag Board all season long.
We're also looking to write up all the great hunting stories readers care to share.
Bring Brag Board photos by the office, send 'em to aottoson@idahocountyfreepress.com, or call me at 983-1200.