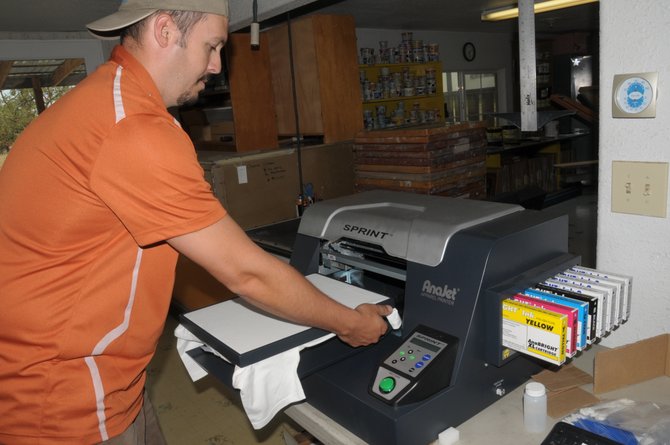 Photo by Lorie Palmer
Tony Ellis, owner of Gem Design, demonstrates printing a T-shirt on his new direct-to-garment printer.
Grangeville — Do you need just one shirt for that special guy who's turning 40? Do you want to design your own shirt to show off your personality? Now you can do it locally – and fast.
"We now have the ability to do direct-to-garment printing," explained Tony Ellis, owner of Gem Design.
Customers can go online to www.gemdesigninc.com and design their own T-shirt or pick from a variety of items already designed.
Items can be printed on a large Sprint Anajet printer within three to five minutes, heat-processed in a press for two to three minutes and then taken out the door.
"It's really that simple and this allows us to do one or two T-shirts at a reasonable cost," Ellis explained. Gem Design has already used this portable equipment at Warbird Weekend and at Prairie schools open house event.
Although the convenience is great, Ellis said, he assures the process will not take away from the screen printing business.
"For larger orders the screen printing is still the best way to go," he said. "What this direct-to-garment printing allows is speed and a very minimal order with no set-up required."
If Gem Design is invited to a school event they donate 10 percent of sales back to the school or club.
All of Gem Design's catalog and merchandise is available for order on-line and no shipping or handling charges will be added for store pick-up. The self-designed T-shirts – which also allow for photo and other image uploads – can be printed on 100-percent cotton only T-shirts in short or long sleeves in a variety of colors and sizes up to 6XL.
Stores within the on-line Gem Design store are set up for both Prairie Pirate and Grangeville Bulldog merchandise.
"This is a great option for teams who want to design their own shirts and have names placed on them and want the whole team to be able to see the design before it's printed," Ellis said.
Designs can be saved if patrons want to come in and discuss options with Ellis or employee Kelly Bashaw, or paid for on-line with PayPal or credit card.
"Of course there is always the option to come in and get us to help design," Ellis said. "We're always open for that, but often people have ideas and they just want to do their own thing so this is great for them."
For questions call Gem Design at 983- 2320, e-mail info@gemdesigninc.com, stop by 1015 Middle Street, Grangeville, or log onto www.gemdisigninc.com.