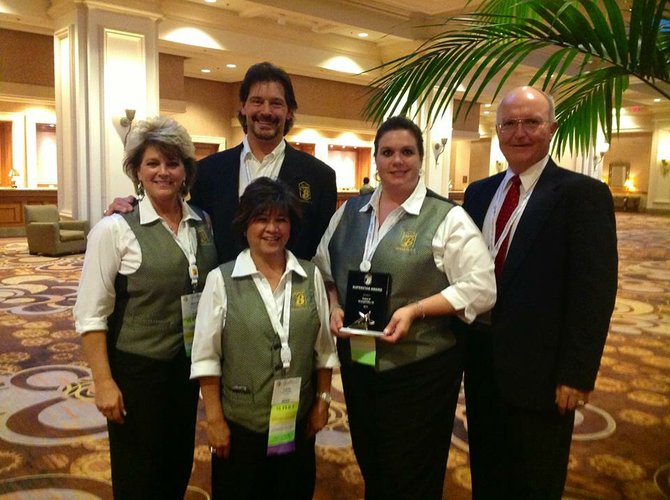 Contributed Photo
Pictured here are (L-R) Super 8 owners Wendy and Ted Lindsley with head of housekeeping Lanie Fogelman, manager Tommianna Whitten-Day and Super 8 director Mike Beaird.
Grangeville — Las Vegas was more than lucky for Grangeville Super 8 Motel owners Ted and Wendy Lindsley.
The duo, along with manager Tommiann Whitten-Day and head of housekeeping Lanie Fogelman, were in Las Vegas Sept. 8-12 where they accepted the "Top 8" award for number three in the Super 8 brand in North America. According to the franchise, Super 8 is currently the largest economy chain in North America (which includes the U.S. and Canada).
"We are extremely honored to receive this award," Ted stated. "It certainly would not be possible without the wonderful staff we have, who worked hard to make Grangeville's Super 8 a fantastic place to stay."
"Without the support businesses here that serve dinners and breakfasts, the grocery stores that bring our groceries each day, the contractors that build and make repairs to our rooms so well, it would much harder to give our guests to Grangeville a nice place to stop over for the night," Ted added.
The award takes into consideration a variety of criteria including a look at all Super 8's in North America which includes more than 2,300 properties. Guest satisfaction surveys, on-line reviews from customers and surprise inspections three times a year all factor into the award process.
"The chain sends out people to check the rooms and it's based on a percentage of the rooms a property has," Ted explained. "For us that means nine rooms, so they then check rooms on each floor to make sure they are clean and well maintained. That's everything from finding a hair to a rub on the paint on the walls." The entire property is also critiqued during these visits.
Super 8 was purchased by Wyndham, which in all operates 15 different hotel brands. For their Top 8 win, Grangeville's Super 8 will receive the opportunity to have a marketing crew come in and work on national advertising.
To date, Grangeville's Super 8, is the only motel in the chain's history to win the Interior and Exterior design awards in the same year. They also won the Exterior design Award again in 2003 and 2004. The business was awarded a Golden Pineapple Award in 2002, which was awarded to the staff for being so involved in the community.
Grangeville's Super 8 opened in 1999 and Ted said it has been a learning experience throughout the years.
"And the conference is a really great opportunity to meet other people in the business as well as attend break-out sessions that focus on not only issues within the industry but also general issues of concern for all of us," he said. This year, this included sessions on The Affordable Health Care Act which both he and Wendy attended.
Ted said when Grangeville's Super 8 was first built, he never expected it to be the biggest.
"However, that doesn't mean it can't be the best, and that's what we strive for," he said.