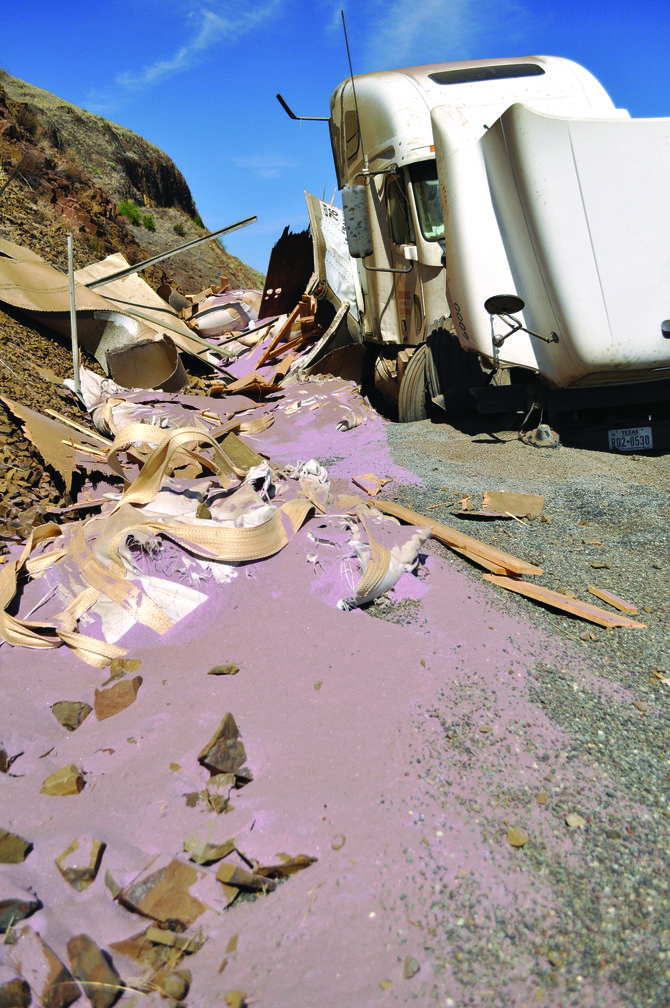 Photo by David Rauzi
Thousands of pounds of industrial abrasive sand burst through a trailer last Thursday, Sept. 12, in a crash at the truck ramp just north of White Bird.
White Bird — Catastrophic failure in a trailer air valve brake hose was the cause of last week's semi-truck accident one mile north of White Bird on U.S. Highway 95, according to Idaho State Police.
Injured in the Sept. 12 crash, Sonya C. Parker, 40, of Fort Worth, Texas, was transported by Syringa Ambulance to Syringa Hospital in Grangeville where she was treated and released.
The crash was reported last Thursday at the milepost 224 truck ramp. Stacey O. Williams, 43, of Dallas, Texas, was driving a 2001 Freightliner southbound hauling approximately 22,000 pounds of industrial abrasive sand, according to ISP Corporal Jim Brouwer, when he felt his brakes start fading out on him.
Williams went to use the right-hand side escape ramp, but to do so he had to pass two cars ahead of him. After passing the second, Williams pulls the truck into the ramp at an angle, then went out up to the road's edge and the turned back into the ramp where the semi struck and then the trailer hit the hillside. The load of sand shifted and exited out of the front of the trailer, which buckled from the force of the accident.
Williams was wearing a seat belt and was not injured. Parker was in the sleeper portion of the semi sleeping at the time of the crash and was not secured.
"When he started down White Bird, he was working with less than 20 percent of the brakes in the vehicle," said ISP Commercial Vehicle Specialist Wally Youngren
Youngren had inspected this vehicle the day before the accident and placed it out of service for several violations that were repaired that same day. The major problems were fixed, he said, however, a probable failure to put the brakes back into adjustment resulted in all the brake system air going out this valve and not operating the brakes.
"He was just along for the ride at that point," Youngren said.
Both the semi-truck and trailer were reported a total loss. ISP was assisted on the crash scene by Idaho County Sheriff's Deputy Scott Paulsen, White Bird QRU and Idaho Transportation Department. Dale's Rescue Towing provided wrecker service.