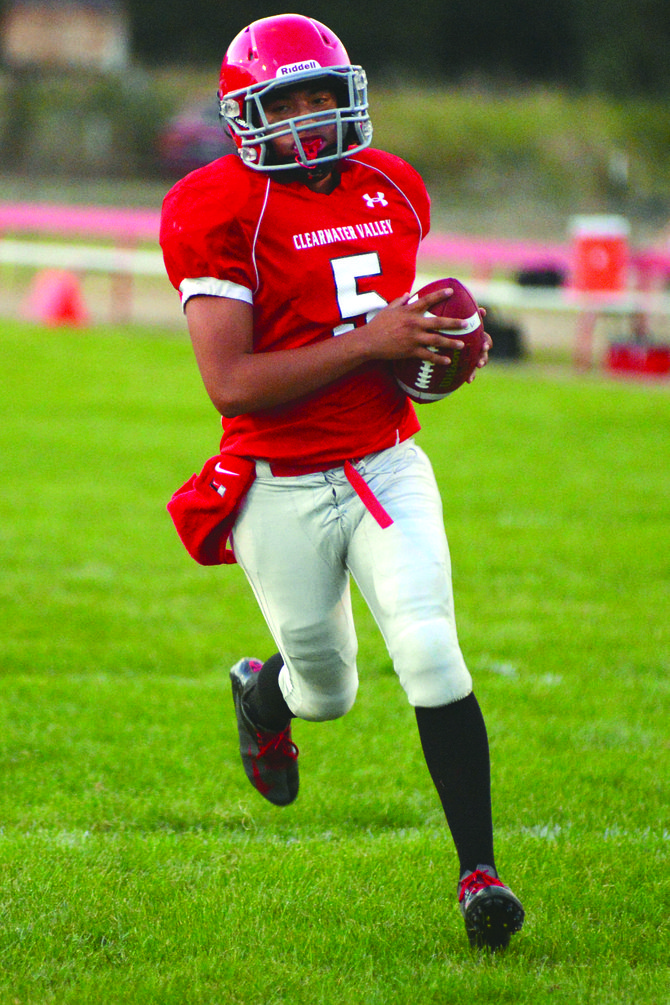 Photo by Andrew Ottoson
Rams senior quarterback Hahots Shebala scored three times last Friday night, Sept. 13, including this 23-yard dash on CV's opening possession.
Kooskia — For the first time since both schools were running 11-man teams way back in 1998, Clearwater Valley beat Kamiah in a football game. With an unsurprising drubbing of a team they scorched during a 2-6 season last year last Friday night, Sept. 13, the Rams are 2-0.
Senior quarterback Hahots Shebala crashed Timberline's end zone for three touchdowns and freshman tailback Jake Pfefferkorn raided the Timberline backfield for more than 200 rushing yards as the Rams cruised to a 56-8 win over a team that tagged them for a loss last year.
Dillon Fisher and Cody Morrow were the sharpest teeth in the jaws of a CV defense that let Timberline slip from its grip only once.
Shebala opened the scoring less than three minutes into the contest, breaking up the middle on what appeared to be either a broken pass play or a perfectly executed quarterback draw.
About four minutes later, junior Kaden Carr exploded for 65 yards and a touchdown off the left side. Shebala followed with a 22-yard run moments before the first quarter expired, and broke away with his third touchdown, 58 yards, early in the second quarter.
Then freshman Trey Pfefferkorn ripped a 48-yarder for a 36-0 Rams lead with about five minutes left in the half. Fisher broke a 20-yarder with two minutes to go, but because of misfires on a couple of two-point tries, the game went to a third quarter.
Timberline briefly extended the game by recovering an onside kick and scoring on a long run from scrimmage to start the second half, but a Will Weaver touchdown catch from Mitchell Morrow and another breakaway score by Pfefferkorn nevertheless brought a contest to an early end.
Coming — Clearwater Valley (2-0) will host Pomeroy on Sept. 20 before charging into its Whitepine League schedule, with a Kamiah rematch looming on Sept. 27 to be followed by visits from league contenders Prairie and Troy.