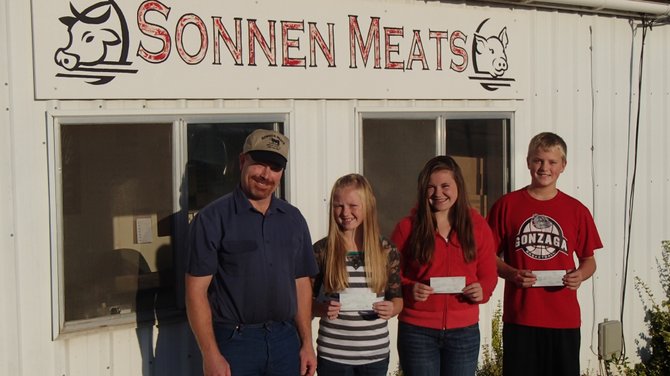 Contributed photo
Idaho County 4-H/FFA Carcass Judging Contest winners pose with their winnings: (L-R) Norm Sonnen, owner of Sonnen Meats; Leah Higgins, Sydney Bruner and Spencer Schumacher.
Greencreek — Top three places were recently awarded in the Idaho County 4-H/FFA Carcass Judging Contest.
Receiving first place and a check for $100 was Sydney Bruner, daughter of Teel and Kellie Bruner from Cottonwood. Leah Higgins, daughter of Brad and Cindy Higgins from Cottonwood, placed second and received a check for $50. Third place went to Spencer Schumacher, son of Tony and Kim Schumacher from Greencreek. Spencer was awarded a check for $25.
The contest was held Aug. 28 at Sonnen Meats in Greencreek. 4-H and FFA members learned about how meat is graded and then judged classes of beef, sheep and swine carcasses. These carcasses were from the Idaho County Fair held the third week of August.
Norm and Julie Sonnen, owners of Sonnen Meats, sponsored the carcass judging contest and providing the cash awards for the winners.