Well, it looks as though ol' Mother Nature has flipped the fall switch. The cool weather has been welcomed by some and not so much by others, (me). It really bummed me out that the river was so muddy the last couple weeks of hot days, and we didn't get to go swimming. Now she's just too cold. I'll be counting down the days until next summer.
We have the chili cookoff this weekend! Bring your lawn chairs and your neighbors. There will be a beer garden and plenty of socializing. You still have time to enter. You can sign up at the Silver Dollar, or call 839-9930 and have Bill or Millie put your name on the list. There are already several teams signed up, and there's going to be a big turnout this year. It costs $20 to enter and there are fantastic prizes to be won. You must prepare your chili on site; however, you can soak your beans the night before. No canned beans. Set up your table and have it decorated early enough so that your chili is ready for judging around 1 p.m. After the judging, we all get a chance to taste your creations for $5. There is going to be a raffle for two cords of wood, a load of gravel and a Life Flight Membership. All of us who live around here should have that membership. All proceeds from this event will benefit the White Bird Medical and Relief Fund, which benefits all of us, so come and give your support.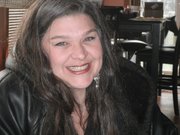 Canyon House and White Bird Antiques will be open with all kinds of great deals for the weekend. There will also be a yard sale behind the Silver Dollar at the storage unit. Plan on spending a great day in White Bird!
If there's any news out there that I need to be spreading, feel free to call or e-mail me. It doesn't even have to be true, I just need news.
Happy birthday this week to: my beautiful niece Kayleen Lowe, Morgan Pilant, Kim Claar, Tom Cullin, Pepi Whitehouse, Korynne Kershink, Mike Blimka, Andy Martin, David Norton, Duane Sickles, Zoey Martin, Darla Brumley, Brenda Tilley, Rick Comrie, Bobbi Eller and Jack Pakkala. I will remind all of you again, that if you want to make changes or additions to the community calendar, get ahold of a library volunteer. You know, just in case you may want to remove the names of people who aren't actually part of our community.... just saying.