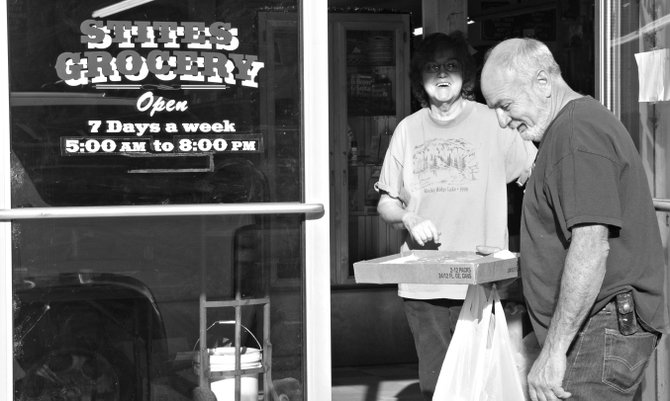 Photo by Lorie Palmer
The Salmon River Inn is once again open in the same building on Main Street. It has the same name with new business owners, Mike and Melissa Blimka, who are leasing the building. They are featuring most of the same popular sandwiches and pizza as some of you remember from days gone by with a full bar but in a non-smoking environment. They will be open Thursdays-Sundays 4-10 p.m. Kids and adults alike are welcome to eat and enjoy the new games and pool tables as well as take in the ambiance of Frank Mignerey's photographs.
•
The Historical Museum at St. Gertrude in Cottonwood will participate in the Smithsonian Magazine's Museum Day Live! Event Saturday, Sept. 28. Those who wish to can go to the Museum Day Live! Web site (www.smithsonianmag.com/museumday/) and download a free ticket, good for two people, on the 28th, one per household. The museum is open 9:30 a.m. to 4:30 p.m.
•
Camas Prairie Preschool will host a citywide yard sale with a map Saturday, Oct. 5.
Community members can call Heather at 983-0502 to have their name and sale placed on a map for $10. The maps will be given out first thing the morning of the sale at the preschool on Myrtle Street (kitty-corner from Lions Park). The preschool will also hold a bake and yard sale that morning to start the trek.
Any donation items for the CPP sale can be dropped at the school.
•
Cloninger's Clearwater Valley Harvest Foods in Kooskia was recently honored as Business of the Year by the Greater Kooskia Chamber of Commerce. Way to go! Thanks for supporting your community.
•
The Grangeville Farmers' Market has one more market day this year. Did you know the Farmers'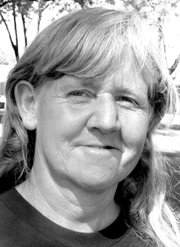 Market is open rain or shine? We've had beautiful weather this year, but even if it rains, we'll still be there. We'll be open Saturday, September 28 from 9 a.m. to 1 p.m. at Pioneer (city) Park. Hope to see everyone at the market!
One of the most popular vendors this year is Helen Sprute. She has her own goat herd and makes wonderful cheeses from it. She also sells the milk and makes scented and unscented goat milk soaps. Stop by and check out her booth.
•
Faye West, Kamiah Clinic RN, was chosen as the September employee of the month for St. Mary's Hospital.

West received her nursing degree from Boise State University in 1990 and has worked for the St. Mary's Kamiah Clinic since 2010. When not working, she enjoys skiing, snowshoeing, hiking and square dancing. She has two grown children and one dog.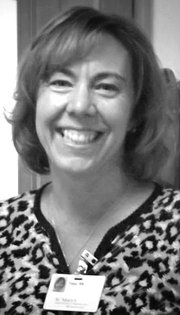 •
Asker's Harvest Foods is host to the Inland Northwest Blood Center blood drive set for Thursday, Oct. 3, 415 W. Main Street, 11:30 a.m. to 2 p.m. Make an appointment by logging onto www.inbcsaves.org and use the code askersgrocerystore.
•
I had great fish and chips at The Hangout in Cottonwood Thursday, Sept. 19. What was just as good as the fast, friendly service and yummy food was the good company I chanced upon. I had lunch with Dina Nuxoll of Greencreek and her longtime friend Debbie Wassmuth of Ferdinand. I promised these ladies that lunch conversation was "off the record," but I will say I had great conversation and learned a lot from these two sweet and talented women.
•
Hailey and I had a nice trip to Boise after school Friday. We visited Avery (Northwest Nazarene University; cannot believe she is a junior already!). The Boise Farmers' Market was incredible! Lots of vendors with great items for sale and a lot of great music, too. We listened to a beautiful three-piece orchestra as well as the Boise Marimba Band which was fantabulous! We also had our first taste of food at The Cheesecake Factory (Godiva chocolate cheesecake is to die for) and spent time at Boise Towne Square. A quick trip and long drive, but fun for all.
•
On the way home from Boise Sunday afternoon we saw a dead baby bear on White Bird Hill. Sad! I wonder where he was headed and what happened to his mama?