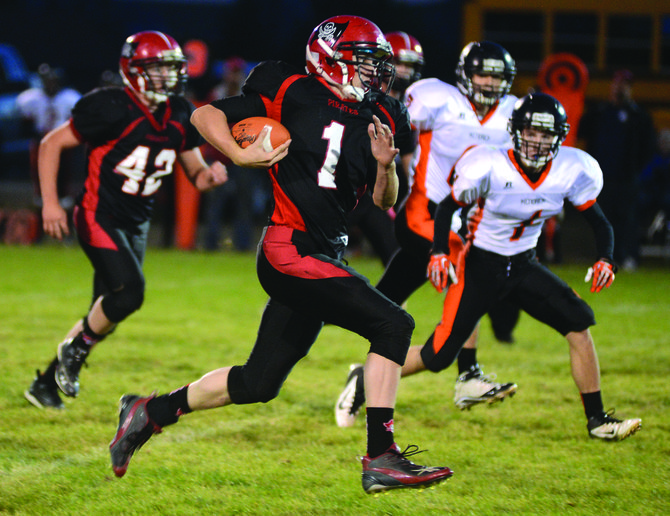 Photo by Andrew Ottoson
Prairie senior running back Lucas Arnzen ripped through the Kendrick defense for 58 yards and a touchdown on this run, which opened the scoring during Prairie's homecoming last Friday night, Sept. 20. Arnzen wound up scoring four times as the Pirates crushed the Tigers 54-8 and improved their season record to 2-1.
Cottonwood — Prairie thumped the visiting Kendrick Tigers on homecoming night last Friday, Sept. 20, largely on the strength of a ground attack powered by a veteran group of offensive and defensive linemen, who paved wide lanes for feature backs Lucas Arnzen and Calvin Hinkelman to run through.
Arnzen broke three touchdown runs and caught another from Jake Bruner as the Pirates mercy-ruled Kendrick 54-8 midway through the third quarter.
Kendrick sent the opening kickoff into the PHS line and recovered onside at its 47. The Pirates — with help from a couple of penalties — pushed them backwards and forced a punt.
Prairie scored in a flash as Arnzen outran the Tigers down the home sideline for a 6-0 lead. Hinkelman tacked on the extra two — the first of his three conversions — and Prairie forced a three-and-out.
Kendrick nearly forced a stop. Facing a fourth-and-long, PHS rolled quarterback Jake Bruner out to the right, setting up a long throw back to Hinkelman on the left. He rumbled down to the 11 before Kendrick brought him down, then, on the very next play, he creased the Tigers defense up the middle for Prarie's second touchdown.
Kendrick's Morgan Kerby broke a long run during the next series, spinning off a hit in the backfield before finding running room down the sideline. He was tackled shy of the PHS 10, and the Pirates kept Kendrick out of the end zone.
After that, the rout was on.
Another rushing touchdown by Arnzen — followed by a touchdown pass from Bruner to Tannor Ross, followed by a Bruner run — had Kendrick trailing 40-0 at halftime. The Tigers scored early in the third quarter, but a bruising run by Hinkelman set up Arnzen's touchdown catch. Arnzen's third touchdown run and Hinkelman's third conversion ended the game early.
Up next, Prairie (2-1) will play at 4 p.m. this Friday, Sept. 27, at Lapwai. The early kickoff is due to a shortage of available officials.
CV 52, Pomeroy 24
KOOSKIA — Clearwater Valley rocked Pomeroy 52-24 last Friday night, Sept. 20, by scoring five consecutive touchdowns spanning the late first, second and early third quarters. The Pirates led 6-0 before the Rams' surge, but in short order trailed by 30 on account of three straight touchdown runs by Dillon Fisher, followed by a long scoring pass from Hahots Shebala to Jake Farmer and a run by Trey Pfefferkorn.
Pfefferkorn later scored on a pass from Shebala, and Kaden Carr capped the scoring with a 57-yard run — CV's longest scoring play of the night.
Coach Carlos Martinez credited the victory — CV's third in a row — to his linemen.
Up next, CV (3-0) will host Kamiah (0-4) for homecoming. Kickoff will be at 7 p.m. on Sept. 27.
Salmon River 54, Colton 8
RIGGINS — As they did to three previous opponents, Salmon River made short work of a Colton, Wash., team that had been noted for prolific scoring. The Savages rolled to a 54-8 homecoming victory on Friday night, Sept. 20, as standout offensive and defensive back Leighton Vander Esch broke two scoring runs of more than 50 yards among his three touchdowns on the ground. He also threw for two 20-yard scores — one apiece to Terrun Zolman and Jimmy Shepherd. McCoy Hale scored twice on short yardage downs.
Between his rushing (224) and passing (235) contributions, Vander Esch totaled 459 yards.
Up next, Salmon River (4-0) will host Wilder on Friday night, Sept. 27.
Wallace 60, Kamiah 12
KAMIAH — Wallace, a team the Kubs smoked 44-18 a year ago, rattled off 54 points during the first half last Friday night, Sept. 27, at Kamiah.
KHS forced a third quarter with a 3-yard touchdown run by Zach Wilkins and a 52-yard touchdown pass from Dalton Snyder to Chris Pethtel.
Up next, the Kubs (0-4) will visit Clearwater Valley for a rematch of CV's Sept. 6 win in Kamiah.