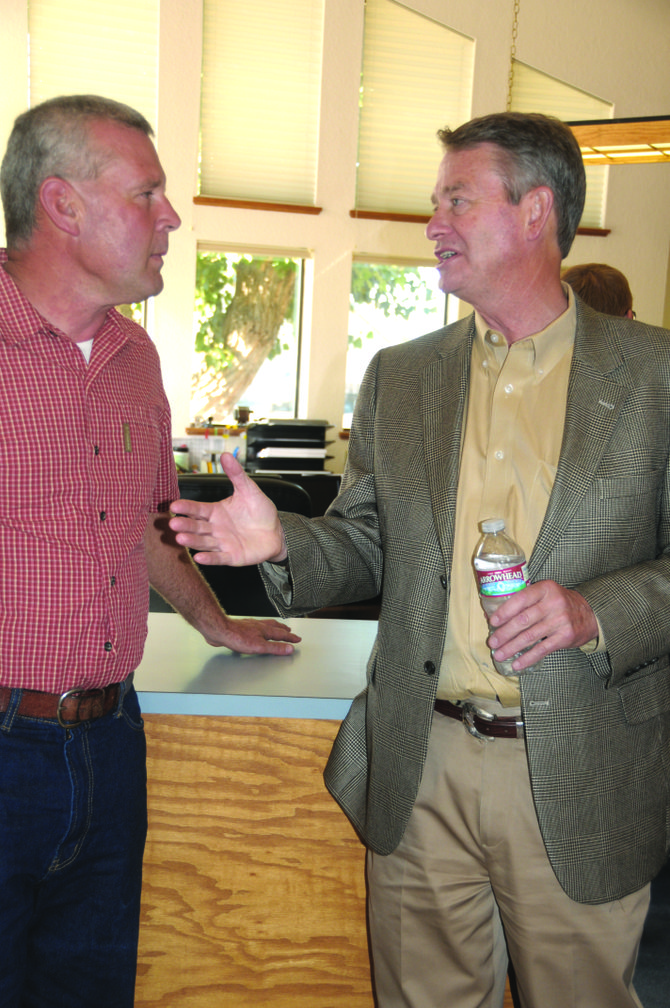 Photo by Lorie Palmer
Idaho Lieutenant Governor Brad Little (right) visits with one of more than 50 constituents who attended a meet and greet session at Attorney Adam Green's office Friday, Sept. 20.
Grangeville — More than 50 locals streamed into Grangeville Attorney Adam Green's office Friday, Sept. 20, for a meet and greet with Idaho Republican Lieutenant Governor Brad Little of Emmett. Little recently announced his bid for re-election and was on the campaign trail last week.
"We've been eating our way across Idaho, sampling all the wonderful places to get a bite," smiled Little, who, along with his wife, Teresa, met with constituents one-on-one and in small groups.
Little discussed Idaho's economy, saying it has rebounded some since 2008 when urban and tourist areas especially took big hits.
"But I like to contrast what our state has done as compared to the federal government," he said. "Because we have had good stewards who set aside some funds for a rainy day, we have been able to somewhat protect some areas such as education and public safety."
Little said Idahoans have always had a "tough row to hoe."
"We don't have major ports or oil, gas or coal, and we're handicapped by too much federal land," he said. "But Idaho is ranked in the top five for fiscally responsible states and we are set to move ahead."
That move, he said, has to include growing the economy and looking at the state's infrastructure, as well as continuing with the constitutional obligation to educate the state's children.
"We need more jobs and more job diversity in our economy," He said. "I am optimistic and if I were buying stock in states I'd go long for Idaho and short on other states."
Little was appointed Idaho's 37th lieutenant governor in 2009. The constitutional duties of the lieutenant governor are to preside over the Idaho State Senate when it is in session and to fill in for the governor when he is out of the state. Additionally, the lieutenant governor performs such duties as the governor may deem necessary for the good of the state, including serving as the governor's chief appointment officer, vetting candidates for boards, commissions and councils and facilitating economic development.
Little is a third-generation Idahoan. He is a graduate of the University of Idaho and has been involved in agriculture for decades. He was appointed to fill a Senate vacancy in May 2001, and was subsequently elected and re-elected senator from District 11 four times.
He and his wife, a Weiser native, have two sons and daughters-in-law, Adam and Angela and David and Kelsey, and two grandchildren.