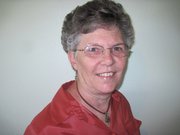 COTTONWOOD — The Farm Forest Fair will be held on April 15 and 16 at the Greencreek Community Hall this year. It is an educational program for fifth graders. It a good chance for them to learn about the two main industries in North Central Idaho — farming and timber. Most of the schools in Idaho and Lewis counties will be attending, with 300 kids signed up. This is put on by the University of Idaho Extension Office with Jim Church in charge. Funding for this event is provided by Idaho County Commissioners and Idaho County Farm Bureau.
Prairie Community Library will be having a yard sale on May 17, the day of the city yard sales in Cottonwood. We will be in the basement of the Cottonwood Community Hall. Anyone wishing to have their own yard sale with us is welcome. The charge is $7 for a table. We will provide the tables. If we get too many requests, then we will move it upstairs in the hall. Contact Donna Wassmuth at 962-3561 or the Library at 962-3714.
Ally Hale, daughter of Michelle and Allen Sonnen, was awarded top overall project at the Summit Academy Science Fair with her entry titled, "Blood Sugar."
Students from the younger classes entered group projects while students in grades five-10 proudly displayed their individual experiments. The projects were judged by a team of five people from Lewis Clark State College during the school day, and awards were given during the fair. The event was chaired by Summit teachers, Emily Prigge and Kimberly Frei.
Winners in the most creative category included kindergarten class with their group entry on "Lungs," Dylan Krogh and his "Heart Strong" experiment, and Ellie Watson with her entry, "Battle of the Sexes." Each finished first in their age group and received a certificate and medal. David Wassmuth placed first in the knowledge category with his project titled, "Are you Wasting Electricity." Additional first-place winners in this category included Chris Osborne with his potato gun project, and the third/fourth grade with their "Germs" entry.
Congratulations to all the kids who had parts in the Missoula Children's Theatre. You did a great job. Elizabeth Nuxoll also deserves recognition for sharing her wonderful voice with the community at a concert last Friday night. All the talent in this area is amazing.
Students, teachers and office staff are on spring break this week. I hope everyone can do some fun things together besides get spring work done. I've got big plans for the grandkids!?