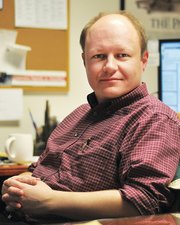 An AARP Armageddon? Tone down the hysteria involved in news reporting of our graying population and let's focus on what we need to do to meet the future – and in some cases, present – challenges of our growing group of older folks.
Idaho County's population has been steadily aging. U.S. Census statistics show the population age 65 and older as growing from 15.6 percent in 1990 to 17 percent in 2000, and estimates from the latest count for last year are around 21.4 percent.
What does that mean for Idaho County now, and if this trend continues what will this demand of us down the road? Other communities are already tackling this issue; reviewing a few of their problems, here are some topics we should be discussing the "whether and how to apply" locally.
Health care: Obviously this comes to the forefront of our thinking, and the services in our communities need to be well-positioned to provide greater geriatric services. The growing challenges come with increased EMS calls for seniors, availability for housing/assisted living housing in close proximity to such services.
Transportation: Providing for a transportation network to services, such as health care, not only locally but regionally, such as in the case for veterans' or specialized treatment. An interesting side issue of this is emergency management in providing evacuation for older residents who no longer drive and special needs shelters.
Personal enrichment: Retirees not looking to travel through their twilight years will be relying more on domestic offerings. This puts a new demand on existing senior centers, continuing education and performance arts venues to not only offer more but to "raise the bar" on the quality of programming it does provide.
Economics: What is the world of employment for those looking to delay retirement, some by choice and some by necessity? How does that impact an Idaho County job market that recently has hovered in the mid 7 percent range, and that only a year ago was nearly 10 percent? As well, news reports have municipalities, counties and states looking to their tax revenues as their populations age and taxable incomes decrease. And here comes the rub as how do you facilitate and provide the above services – alongside essential services already vying for finite dollars — when your funding base decreases?
Are these big city issues? Taken to their fullest extent, yes, but at their core are many key essentials: Some we have already well in place, and some we need to be discussing on how to transition into and adopt.
The demands here require new discussions and shared purpose by our elected officials, our leaders in commerce and our social organizations. Raising this as an issue to prospective candidates this election year is a good way to start this discussion – and the ball – rolling.