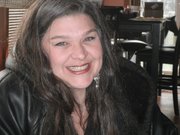 WHITE BIRD — Happy April! What a beautiful spring we are having! It's absolutely wonderful. I love it when everything is so green and new life is blooming all around us. The trees are blossoming and creating us some nummi goodness. It won't be long until we are pulling apricots from their branches and good ole Salmon River tomatoes from the vines.
All the beauty that surrounds us makes it just a little bit easier to deal with the sadness we've had this past week. We lost John Kroencke. A lot of his family came home for the memorial we had for him last week.
We also lost our friend, Emma Hickman, who has been fighting cancer for quite a while now. We will have a memorial for her tomorrow at 11 a.m. at the cemetery with a potluck following at Hoot's Café.
There's a disgusting amount of cancer in our little community. I don't understand, and it makes my heart ache. All of you who are fighting cancer right now, and there are quite few, I just want to say we love you and we are all sending you happy, healing prayers.
On a happier note, the Easter egg hunt is right around the corner. It will be at the school, our future community center (big smiles) on April 19. Bill and Connie Shuck have been organizing this event for all of us since I was a little girl. Thank you so much, Connie and Bill! They need some donations, people. The funding is really low this year, so if there is any way you could make a contribution, drop it off at Canyon House or at the Shuck residence.
The Rebekahs will also be having their annual baked food sale. This is an important fund-raiser for them, and you just can't go wrong buying their delicious goodies. Like I've said before, and I'll say it again, those women can cook!
Aunt Laurie gave me a lesson last night. She taught me that Easter is always the first Sunday, following the first full moon, following the spring Equinox. Very cool. The spring equinox was March 20, the next full moon is April 15, and Easter falls on April 20 this year. Now we're all educated.
The White Bird Antique store has come out of winter hibernation and opened its doors for the summer. Take some time to stop by and say hi to Pat and Bruce and check out all their treasures.
A couple weeks ago Bones got first and Mary got second place at the cribbage tournament. This last Saturday Kevin got first and Bones got second. Every one, except Bones, (just kidding) is welcome to join in the crib tournament next Saturday, at 2 p.m., at the Silver Dollar. The final cribbage tournament, for all who qualify, will be on Saturday, April 19, following Good Friday.
A great big thank you to everyone who supported Canyon House's 11th anniversary sale. It was a wonderful weekend, and we sure appreciate all of you. There's new stuff coming in soon, so stop in and check it out.
Happy birthday this week to: Marie Henderson-Ingram, Jeff Blair, Payje Sickels, Ryder Schacher, Connie Shuck, (drop her off an Easter donation for her birthday), Adam Emig, Debbi Shugert, Eric and Charlie Hickman and Michael McReynolds.