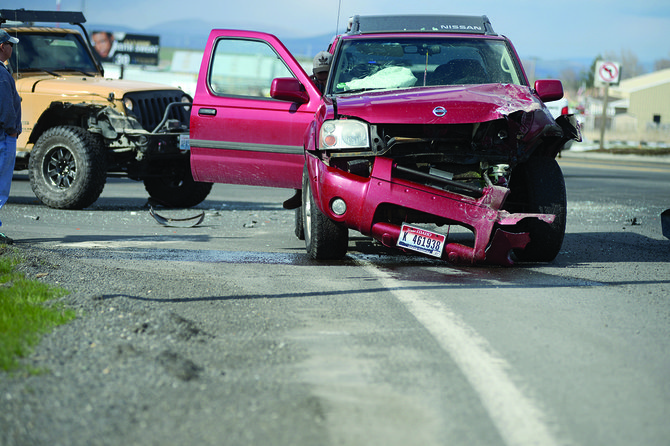 Photo by Andrew Ottoson
No injuries were reported in Monday's collision of two vehicles at the U.S. 95/State Highway 13 intersection.
GRANGEVILLE – Both drivers escaped injury following a two-car collision Monday afternoon, March 31, at the U.S. Highway 95/State Highway 13 intersection.
Charles Blake, 50, of Bonney Lake, Wash., was cited for failure to yield for a stop sign.
The incident was reported at 3:38 p.m., according to Sgt. Andy Beene, Grangeville Police Department. Dakota Allert, 23, of Grangeville, was driving a 2002 Nissan Frontier southbound on U.S. 95, and Blake was stopped at the sign headed westbound on SH13. According to Beene, Blake did not see the oncoming Nissan, and he proceeded into the intersection where both vehicles collided.
Both men were wearing seat belts. Wrecker services were provided by Dale's Rescue Towing of Grangeville and Miles Towing of Kooskia. Assisting on scene was Idaho County Sheriff's Deputy Mike Brewster.