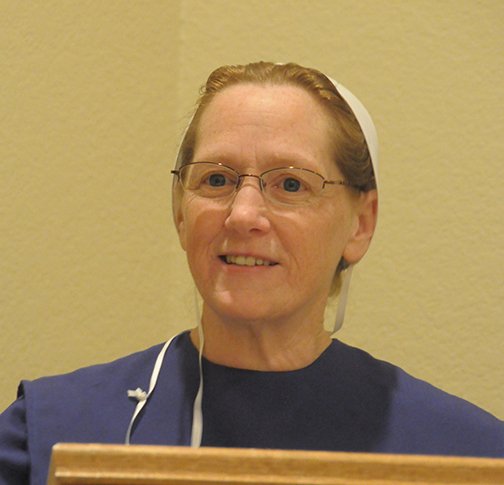 Photo by Lorie Palmer
Edith Engbretson spoke to the Encouragers March 6 in Grangeville.
GRANGEVILLE — A group of Mennonites have recently made their home in Grangeville.
Edith Engbretson spoke to a group of nearly 50 women at the monthly Encouragers meeting at Oscar's Restaurant, March 6.
Edith said she grew up in a large Amish family in Ohio.
"I had a wonderful, loving mother who was always there and made our home a haven," she said. "I was taught to be a mother – that's all I ever wanted to be."
Edith said Christian families should strive to make their homes "so Christlike that all the neighbors will see and want what we have."
"Remember," she said. "God loves each of us equally. Never make anyone feel small in your presence."
Edith's husband, Steve, was born and raised a Catholic in Chicago. He showed Belgian horses as a young man and this brought him to Ohio where he met Edith's family and eventually accepted Christ as his savior and converted to the Amish religion and way of life. He and Edith were later married.
The family spoke a form of unwritten German, often called Pennsylvania Dutch by outsiders, which Steve had to learn orally.
"He learned it as our babies grew up – kind of baby talk at first and then more and more until he could speak the language," she explained.
The family spent 12 years in Ohio and another eight in Michigan before recently spending six years in Montana where Steve was "lot cast" to be the preacher in their Amish church.
"Something that bothered him was the fact in our Amish church he could speak only in German – that is the rule," Edith explained. "He felt the need to be able to share the gospel on a larger scale."
This longing led to the family converting to Mennonite and packing up five families and moving to Grangeville where most families have their own businesses and/or work together.
"Now any of you could come to our church and hear about Jesus Christ without the language barrier," she said.
She explained the family does not have a television or radio but they do use phones. They also drive now whereas they used to only drive a buggy powered by a horse.
"I, however, do not drive," she said. "That frightens me. Only one of our women, during the time we have lived here this past year, has driven to Lewiston."
Edith said the Mennonites/Amish do not consider higher education for their children, mainly because of the influence it poses.
"Maybe we are a little overprotective, but we do not want the university influence, the outside world sway, to affect our children."
The group currently meets for church services at the Grangeville Senior Center and they homeschool their children, though someday they would like to have their own church and school.
"We feel we have been placed in Grangeville to shine in our little corner," she said.
Edith addressed her head covering, a white cap with strings, quoting Bible verses as the guidance for their use: "For if the woman be not covered, let her also be shorn: but if it be a shame for a woman to be shorn or shaven, let her be covered," I Corinthians 11:6.
"It is not to hold down a woman but to show she is revered," Edith explained. She also told about her dress and its pleats meant to hide a woman's shape and be modest.
"I understand this is very different for many of you," she smiled. "In Montana some of our Amish friends and family felt we were 'going off the deep end' when we left. We feel this is an opportunity for us to make a difference."