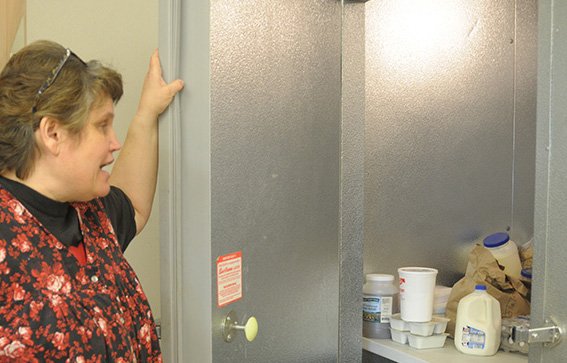 Photo by Lorie Palmer
Senior meals cook Joyce Forsmann shows the new cooler at the Grangeville Senior Citizens Center.
GRANGEVILLE – Cooks at the Grangeville Senior Citizens Center's nutrition program had an icy reception Monday, March 24: A walk-in cooler greeted them.
"Actually we've had it for a while but it's now installed and working great," smiled cook Joyce Forsmann.
The center purchased a walk-in cooler and freezer second hand in a police auction after a local restaurant had gone out of business.
"At first we really only wanted the freezer, but they had to be purchased together," Forsmann explained. For $8,000 they purchased both and paid another $3,000 for installation.
The units were only six months old and would have cost at least $20,000 new, she said. Now they are able to store more food and take more donations.
"The breakfasts, donations and quilt raffle have helped pay for the freezer and cooler – we have such a great community who help out," she said.
The items not only benefit the Grangeville Senior Nutrition Program but also the meal sites in Cottonwood and Winchester.
Donations from the food bank as well as locals who may have more produce, fruit and meat than they can use, are utilized for senior meals.
"Now we can take even more, when before we might have to say 'sorry, we don't have room,'" Forsmann said.
The next projects donations are sought for will be shelves for the cooler (right now a table is used inside the six-by-eight locker) and for a new industrial strength mixer. Shelving for the cooler will cost about $300.
"Slowly, we're trying to update things that have never been replaced," Forsmann explained. She has worked at the site for five years and also works in Cottonwood.
Grangeville serves meals each Monday and Friday (averaging 60 home-delivered meals and 120 dine-in meals a week), Cottonwood on Tuesdays (20 home, 50 in-house) and Wednesdays at Winchester (48 dine-ins), noon each day.
Aside from holding a family and consumer sciences degree from the University of Idaho, Forsmann has a large family and was used to cooking for them before taking the senior nutrition job.
"I love it. I love the people and the cooking – it was something I felt I could do and I know we all try to go above and beyond and make the meals a good experience," Forsmann said.
Senior nutrition sites are partially reimbursed for senior meals through Community Action Partnership Area Agency on Aging.