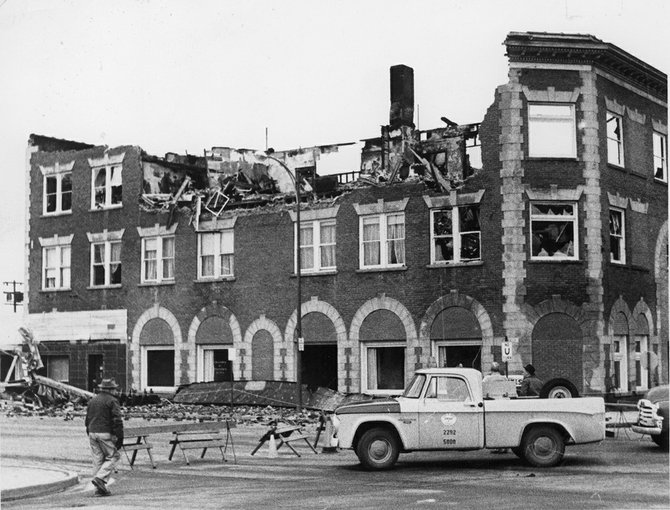 10 YEARS AGO
MARCH 31, 2004
•Grangeville resident Holly Cox was hired Feb. 1 as the new assistant dispatcher for Avista's local office, a part-time 24-hours-a-week position.
•Sarah Murt of Nezperce was crowned March 27 as the 2004 White Bird Rodeo Queen. She is the daughter of Mike and Tammy Murt.
20 YEARS AGO
MARCH 31, 1994
•The beginning of the end for the original Grangeville Christian Church came early Monday morning when the heavy equipment began tearing through the roof and walls.
The building, which had stood since 1902, has been replaced by a new facility located directly next door.
According to Pastor Chris Blair, the sanctuary was initially located at the rodeo grounds and was later moved to its current location on the corner of South Idaho and West South First.
30 YEARS AGO
MARCH 28, 1984
•By Ed Stepanek — "Avoid White Bird Hill" was good advice Tuesday morning after a slide Monday closed regular Highway 95 and highway crews opened up old winding Highway 95 which meanders to the top of the hill.
40 YEARS AGO
APRIL 3, 1974
•What Easter Means to Me by Sts. Peter and Paul and Grangeville Elementary second and third grades.
What Easter means to me is for one reason we hunt Easter eggs, and for another reason we go on a trip sometimes.. – Wes Lester.
I go to Mass and pray to Jesus … Jesus died on the cross for my sins. – Cindy Ross.
Easter is when Jesus rose from the dead. That is what it means to me. — Deborah Junes.
I like Easter because I like to go to church. I like eating the chocolate bunny, but it is still not what Easter means to me, it's loving my father and mother. – Audrey Gortsema.
50 YEARS AGO
APRIL 2, 1964
•WHITE BIRD (special) – Mrs. White of the Milltown area of White Bird found a partial lower plate. Whoever lost his teeth may have same by proving they fit, calling at Mrs. White's home to reclaim the dentures.
60 YEARS AGO
APRIL 1, 1954
•J.E. Rockwell, Jr., M.D., Sacramento, Calif., has announced he will practice in Grangeville in the near future.
70 YEARS AGO
MARCH 30, 1944
•Red Cross unit is preparing 144 kit bags for departing soldiers.
80 YEARS AGO
MARCH 29, 1934
•The Quick Repair Shop, owned by Milton Braybrook, has installed a Penn sole to half-sole your shoes with cemented soles without that "half-soled" appearance.
•A Good Friday service will be held from noon until 3 p.m. in the Blue Fox Theater. Every 20 minutes there will be a five-minute period for meditation and prayer.
90 YEARS AGO
APRIL 3, 1924
•Albert Haener was awarded the contract for rocking Main Street with 3,000 cubic yards of crushed rock, the rock coming from the city crusher located north of town.
100 YEARS AGO
APRIL 2, 1914
•If the plans of a number of the city's prominent church workers are realized, several of the local churches will join a federation.
110 YEARS AGO
MARCH 31, 1904
•RIGGINS – Students of today will in after-years, when completing the course begun in this homely log cabin school, survey the elegant surroundings of some institute of learning and turn with sentimental memories to the old school house by the rock on the Little Salmon.
120 YEARS AGO
MARCH 30, 1894
•Eggs are retailing in town seven dozen for a dollar.
•The Grangeville delegation was spilled out into the mud three times on the trip to attend the probate court at Mt. Idaho. The road to the county capital was always bad, but it is now at its very worst.