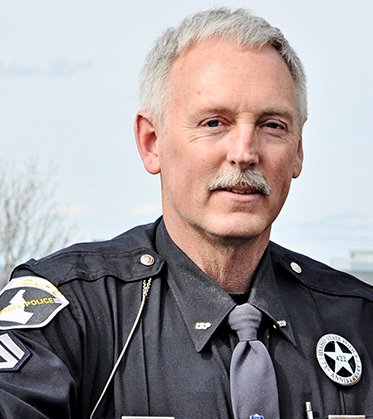 Photo by David Rauzi
ISP Corporal Jim Brouwer of Grangeville has been a familiar law enforcement presence in Idaho County for nearly three decades. Next Wednesday, April16, he'll turn that postion over to a new trooper and retire.
GRANGEVILLE — Considering what he does for a living, Jim Brouwer had an appropriate way to describe how he got involved in law enforcement.
"Actually, it was quite by accident," he said.
Brouwer, 52, is a master corporal with the Idaho State Police, one of five troopers stationed in the five-county Region 2 area, who from the seat of a 2010 Dodge Charger watches over a large chunk of North Central Idaho real estate – from the Idaho/Montana border on U.S. Highway 12, north to Winchester and as far south as the Adams County line, east into Elk City.
But at close of business Wednesday, April 16, he'll be hanging up his badge and Smokey Bear hat for good, retiring from the state agency after 27 years.
A few safety tips from ISP Trooper Brouwer
•Don't use cruise control when the roads are slippery. On an incline it will kick in to maintain speed, and on a rear-wheel drive vehicle that will kick out the rear end before you can react, and you're sliding off the road.
•"There's a direct correlation between poor tire treads and crashes," he said. And all-season radials are no substitute for good snow tires, and they're better with studs.
•Leave extra time for your trip. Leaving late and driving fast to make up time is "just an accident waiting to happen," he said.
"I did not dream I'd be in law enforcement. I went to college for forestry," Brouwer said. "I was happy as a lark as a logger."
Born and raised in Michigan, Brouwer received his forestry degree from Michigan Tech in 1982, shortly after moving to Bonners Ferry to work for a logging company. At the time, Brouwer's brother worked there for the Forest Service and was also serving as a reserve officer for the Bonners Ferry Police Department (BFPD). When his brother was promoted and transferred to Oregon, "the city police came pestering me," Brouwer said, to take his brother's place. For a "lack of anything better to do at night," he joked, he took on the reserve position, and for a year and a half assisted the department on its patrol and supplementing manpower on holidays and special events. When a full-time police position came open in 1986, he applied and was hired, working only seven months for BFPD until he – at the continued urging of a former ISP officer – applied for an open position and was hired for the state police.
"I thought I should have five years in before applying," Brouwer said, when he first resisted applying for the ISP trooper job. "Actually, they hire a certain type of person rather than one who's trained," he said, the idea being the candidate will be instructed in the job ISP needs versus dealing with someone with ingrained procedures or "bad habits" from a prior agency.
Moving from a handful to hundreds of patrol miles in this large geographic area was a big change for Brouwer, he said. "And the response time is very lengthy. If a call comes in at Lochsa and you're at Grangeville, it could take several hours to get to the scene."
"You're all by yourself out there," he continued. "If something happens, it can be a long time before another officer gets to your location." You're totally dependent on your relationship with area law enforcement agencies and your fellow officers, "and you learn how to pray. I do have to give credit to the Lord for keeping me safe for 27 years when there was no backup."
Brouwer has received some bruises but has never been seriously hurt during his 27-year ISP career. But, he added, "there have been a number of times I've found myself definitely outgunned." He recalled one incident with a pickup "full of drunks, and the situation was deteriorating rapidly," and he managed to get the guy's driver's license and back to the patrol vehicle to call for another officer, and they were able to make an arrest.
But you can't always wait until another officer gets to you, so Brouwer said it comes down to being judicial in the enforcement you carry out and having good public relation skills: "Don't talk down to people, and treat them in a way you would want to be treated in the same situation." His philosophy was inspired by an ISP officer who, when confronted with a suspect who pulled a gun, responded, "I will make this encounter as pleasant as you will allow me, but we're going to get the job done."
Brouwer faced a tense situation with a traffic stop north of Lucile on U.S. Highway 95 that turned up a Texas man sought on multiple felony warrants and a history of battery on law enforcement officers.
As two county deputies ran code from Grangeville, Brouwer saw the guy reach under the seat and then get out of the car, approaching him despite Brouwer's instructions to stop. Brouwer, with a shotgun pointed out the window, backs up his patrol car and the guy keeps coming, saying he just wants to talk – that continued for a quarter-mile, which was fine Brouwer said as "he was away from his car, and I could keep an eye on him." The suspect finally got disgusted and went back to his car, and Brouwer saw him reach under his seat. Around that time an Orofino police officer drove by, saw the situation and helped Brouwer in the arrest. On a search of the vehicle they found two guns in the trunk, positioned on either side so the suspect could easily access one, "and shoot whoever was there," and also a gun under the driver's seat, which he had placed back after confronting Brouwer.
"He was desperate," he said of the suspect, and looking at a return to prison, "he figured he had nothing to lose."
Reflecting on his career, Brouwer said, "One of the things that really sticks in your mind is how fragile human life is and how quickly it can be lost in traffic accidents…. With a lot of them, you shake your head and say, 'Why?'" A fatal crash may have followed after having "just another beer" or driving too fast inattentively, or with the current problem of texting while driving. If you're traveling 60 MPH you're traveling 88 feet per second, and if you take your eyes off the road for just a second, he said, "things happen pretty fast."
Death notifications? "That's one of the most unpleasant parts of the job," he said. "You feel their pain because you've dealt with it so many times." On the flip side, the most pleasant part of the job is helping someone in trouble; arranging a tow for a broken-down motorist or being able to push someone into town who's too poor to afford the service. Just earlier this month, Brouwer encountered two kids broken down and broke east of Grangeville; he offered to push them to Zip Trip. "Can you do that?" they asked. "You just watch," Brower said to them, "They were happy as a lark."
During his 27 years, Brouwer has seen changes in how ISP does business, noting that report taking today is more about protecting the agency from liability; information is minutely detailed – right down to how handcuffs are put on — to show due diligence in handling suspects; "prosecution is secondary," he said. But with that, technology has realized time and money savings in creating and e-mailing reports with computers in patrol cars, and the end of film developing with use of digital cameras. And the patrol cars?
"I started with an '85 Plymouth Grand Fury – what a piece of junk," Brouwer said. He's now on his 11th car, a 2010 Dodge Charger, "that will go faster than I care to drive," though he's had it up to around 140 mph.
With his time in plus his age, Brouwer is able to retire ISP at this time, and he's more than ready: "There's more to life than work," he said, and he's looking forward to getting out – along with his wife, Bonnie — to see more of this beautiful state while he's still physically able to do so.
"I have to believe it was the Lord's leading to put me where he wanted me to be," Brouwer said, in transitioning from forestry to law enforcement, especially considering the heavy competition to overcome to become an ISP trooper.
It's difficult in law enforcement, he said, to see the tangible results of your work: "Did I prevent a crash? Did I save someone from getting hurt? You'll never know those things. You go out and do your job every day, and you let the Lord use you to accomplish what he would have you to do that day."