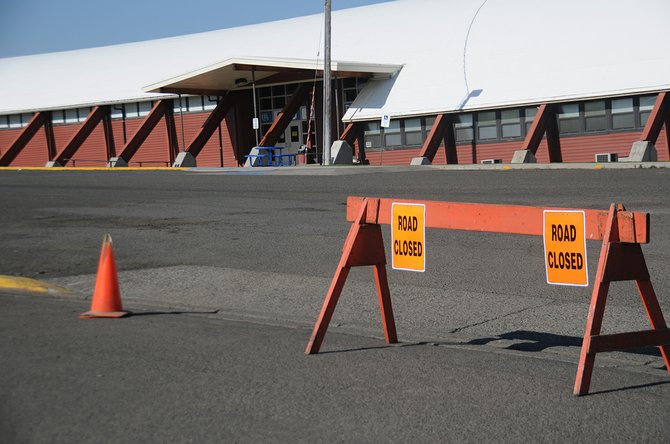 GRANGEVILLE — It's like Groundhog Day: The same thing keeps happening over and over.
Patrons in Mountain View School District 244 were greeted with an automated call Wednesday morning voiced by Grangeville Elementary Middle School principal Alica Holthaus, April 2, 7 a.m., stating Grangeville schools would be starting two hours late.
"As people probably suspected, it was another bomb threat at Grangeville High School," said superintendent Kent Stokes.
Stokes said there were three notes in all — one handwritten note and two Xeroxed copies — which were placed on main doors probably between 5:35 and 5:45 a.m., and discovered by staff sometime shortly thereafter.
Although wiring for the security cameras was started during spring break, this has not yet been completed by the contractor, CompuNet.
"Originally we did not know if we would have to cancel school completely so we started with a two-hour delay," Stokes said. "Then we had the police work the building, but we were prepared to shut down or continue depending on their ability to complete their investigation. It worked out that they did get done so we were able to run at 10 a.m."
Similarly executed bomb threats have previously been made at GHS: two in 2013 and also in 2008 and 2010. No one has ever been arrested in conjunction with any of these intimidations.
"The school district is offering $500 for information that leads to the arrest of the person or persons responsible for this," said Stokes. "It isn't funny, it isn't a joke. It is disruptive and it needs to stop."
GHS principal Steve Higgins said the school was "well-checked" after three hours of police intervention.
"They know what they are doing – they know our schools," Higgins said. "And we felt like canceling school and activities for the whole day would just be hurting the good kids who want to be there and want to learn. It worked out to just do the two-hour late start."
Grangeville Police Department is currently investigating this incident. According to GPD Sergeant Andy Beene, they do have some leads in the case, and at this time it is unknown whether this incident is related to prior threats.
Seven officers total from GPD and ICSO responded to the incident, and searched the parking lot and entire facility.
Higgins said the specificity of the notes leads the school to believe they are being placed by students but it is unsure at what grade level.
"I am definitely tired of it and I know it's frustrating for the community, police and patrons as well as the staff and students," he said. "And it's a black eye to our school district and I don't like that."
Higgins said he feels the camera installation will be a good deterrent, but that even with the past threats, the buildings have never been compromised.
"We have never had forced entry or anything broken into with the threats," he said. "We have good kids – we have very minimal discipline issues in our schools. We just need to get this one issue settled and let people know it's no acceptable."
Those with information should immediately contact Higgins at 983-0580 or the Grangeville Police Department at 983-1351.