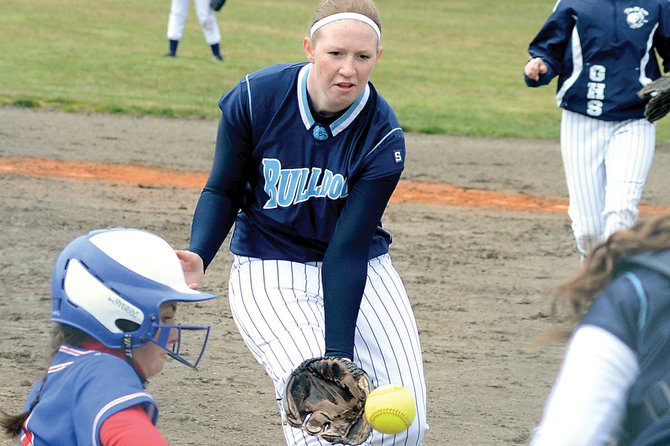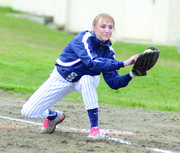 Grangeville's softball squad braved a muddy field last Saturday, April 5, and a tough matchup against 2013 state runner-up McCall to play its first game following a hiatus dating back to 2012.
Junior Kami Sickels, one of two 2012 returners to join coach Calen Long's first varsity roster, pitched for the Bulldogs. Pictured is Sickels attempting to make a play against a Vandal runner who scored from third base.
Grangeville's other experienced returner is senior Morgan Brannan.
13 players suited up for the season opener, which the teams agreed to play despite Friday's soaking rains and sparse sunshine. McCall won by a large margin.
GHS was scheduled to play St. Maries at Lewiston after the Free Press print deadline last Tuesday; Grangeville is scheduled to host Clearwater Valley at Lions Park, 4 p.m. Thursday, April 10, with St. Maries (11 a.m. Saturday at Lewiston), Kendrick (4 p.m. Monday at Juliaetta) and Orofino (4 p.m. Tuesday at Orofino) coming up.
More photos are available at buyfreepressphotos.smugmug.com.