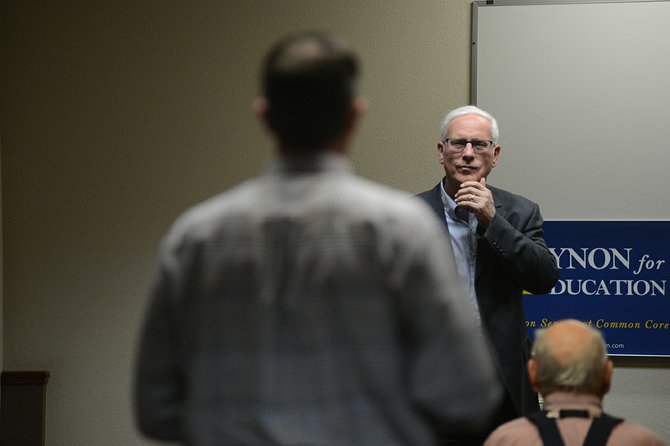 Photo by Andrew Ottoson
John Eynon (right) of Cottonwood, candidate for State Superintendent of Public Instruction, listens to a questioner at a candidate forum held last Wednesday, April 2, at the Super 8 in Grangeville.
GRANGEVILLE – With candidates for several state offices making a campaign stop together, Idaho County officials, local Republican leadership and GOP rank-and-filers from surrounding counties nearly filled the Super 8 conference room last Wednesday night, April 2. Meanwhile, stopping in Lewiston, incumbent state attorney general Lawrence Wasden reportedly, per the Lewiston Tribune, described them as "fringe members of his party running primary campaigns."
But among the 65 who turned out in Grangeville – a crowd that included Idaho County Sheriff Doug Giddings and state Rep. Paul Shepherd – the ideas touted by candidates Lawrence Denney (secretary of state), Todd Hatfield (controller) and John Eynon (superintendent of public instruction) met applause. Wasden's opponent in the AG campaign, Chris Troupis, had been scheduled to attend but was not present. State Sen. Sheryl Nuxoll spoke on behalf of governor candidate Russ Fulcher.
Following a prayer and the Pledge of Allegiance, Idaho County Commissioner and candidate for Lt. Governor Jim Chmelik led off with a speech about the need to tap local public lands for timber and other natural resources, which he said could be accomplished through a transfer of federal lands to the state.
Of all the issues the lead speakers raised – support for religious liberty, state trust management reform and opposition to Common Core standards, to name three – only the land transfer plan elicited a sustained line of questioning from an audience member, who expressed concern that the state might sell off the land it would acquire.
Wasden reportedly told his Lewiston audience that land transfer efforts in other states – such as in Utah – are "constitutionally unenforceable."