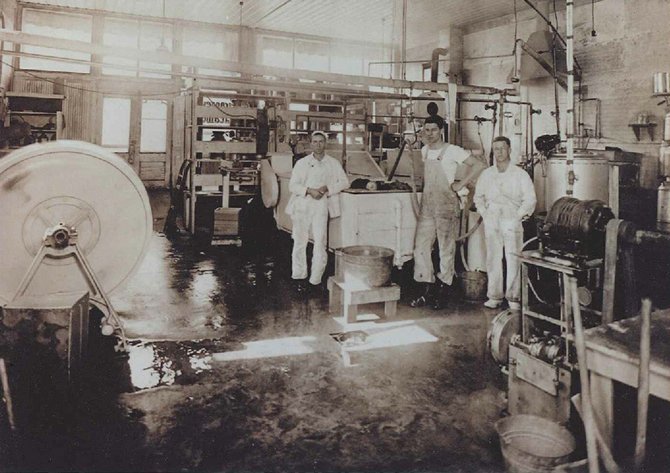 10 YEARS AGO
APRIL 7, 2004
• Kindall Meyers, 17, of Kuna was named the 2004 Riggins Rodeo queen.
20 YEARS AGO
APRIL 7, 1994
• Authorities have not yet determined a cause or a motive for the killing of Bruce and Lynn Peeples whose bodies were pulled from the bedroom of their smoldering home Saturday morning, April 2. The couple owned and operated Uncle's Pawn Shop out of a location in downtown Grangeville which was destroyed in an arson fire in November 1993.
30 YEARS AGO
APRIL 4, 1984
• Bryan Lankford was found guilty Saturday of first degree murder for the beating deaths of Marine Captain Robert Bravence and his wife, Cheryl, during a robbery in Idaho County last summer.
40 YEARS AGO
APRIL 10, 1974
•CLEARWATER – Evangelistic meetings in the Clearwater Church Monday through Thursday were well-attended. Rev. Troy Costlow with the Voice of Calgary of Eugene, Ore., was the featured speaker.
50 YEARS AGO
APRIL 9, 1964
• More than 5,039 children and adults have paid their dollars for the series of three vaccines and will take the polio vaccine Sunday in stations in Grangeville, Cottonwood, Kamiah, Elk City and White Bird. 60 YEARS AGO
APRIL 8, 1954
• The doors of Sts. Peter and Paul School and Convent were open to the public and drew a thousand guests, Rev. T.J. Lafey, reported.
• The perpetual right of Nez Perce Indians to hunt on public domain whenever they please was upheld when the U.S. Supreme Court refused to review a petition submitted by the State of Idaho.
70 YEARS AGO
APRIL 6, 1944
• A capacity crowd, with 100 being turned away for lack of standing room, filled the Opera House for the Old Time Fiddlers Contest.
• COTTONWOOD – T.A. Randall has treated the interior of his pool hall to new paper and paint.
80 YEARS AGO
APRIL 5, 1934
• A new lumber company makes its bow to the people of Camas Prairie this week under the name of Grangeville Lumber Co., with G.E. Andrews and Albert Haener, owners. The new firm is located on State St., a short distance north of the old Central Garage, now occupied by the Forest Service.
90 YEARS AGO
APRIL 10, 1924
• Wrinkled and bent with age, but with the enthusiasm of youth, Goon Dick, veteran Idaho County miner, arrived in Grangeville, en route from Seattle on his annual pilgrimage to the placer mines near Warren.
• Sidney B. Brown, a veteran of the Nez Perce Indian War of 1877, received word that he had been granted a federal pension of $20 a month. He came to Idaho County in 1867. Then the prairie was covered with bunch grass and the old trail crossed it from Lewiston to Elk City.
100 YEARS AGO
APRIL 9, 1914
• The first public school in Grangeville was taught in a log house on the old Aram place south of town in 1867. Time after time the school house has been enlarged and improved until the completion of the present building. Grangeville boasts one of the finest schools in the Northwest.
110 YEARS AGO
APRIL 7, 1904
• If it is against the law to sell liquor on an Indian reservation, how is it that Uncle Sam's revenue collector comes around for a yearly tax?
120 YEARS AGO
APRIL, 6, 1894
• The Grangeville delegation was spilled out in the mud three times on their trip to attend the Probate Court in Mt. Idaho last Monday.
• An altercation occurred on the streets of Mt. Idaho in which revolvers were drawn.