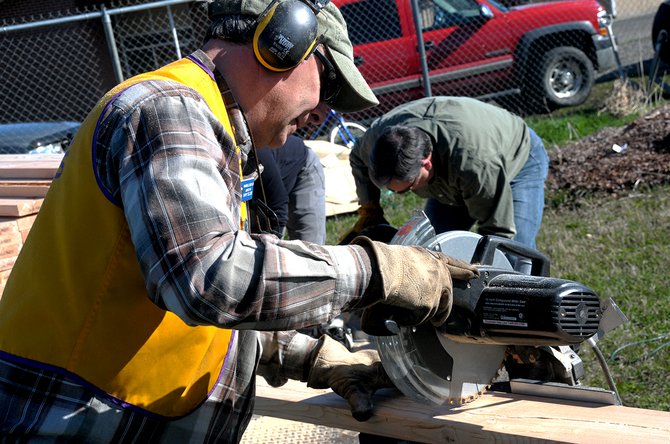 Photo by Lorie Palmer
Grangeville Lions member Garry Seloske was busy sawing and working with other club members Saturday morning, April 12, at the Camas Prairie Food Bank lot. The men were cutting boards to build 16 beds for the community garden.
GRANGEVILLE – Thanks to the Grangeville Lions and a host of donations the Camas Prairie Food Bank's community garden will have at least another 16 garden beds this summer.
Lions members spent Saturday, April 12, building beds at 411 E. North Street – the corner of North Street and Florence property. Lumber was donated by Idaho Forest Group.
"Some of these beds will be especially for seniors – built higher so they don't have to bend over as far," said CPFB manager Carlene Whitesell. Donations of dirt, seeds and plants are still needed.
Those wishing to use a gardening box for the summer can sign up at CPFB.
"These are for anyone in the community – they do not have to be food bank clients," Whitesell said.
Users are responsible for planting, weeding, watering and maintaining their garden box.
Whitesell said the community support for the gardens, including the soup benefit held earlier in the year at The Gallery, has been "incredible."
"We couldn't do what we do at the food bank and with the community garden without all the help we have received. It is much appreciated," she emphasized.
The food bank will hold a variety of gardening classes this summer. These will be posted on the Camas Prairie Food Bank Facebook page or information can be obtained by calling the food bank's new phone number at 507-2365.
"Inland Cellular helped us hook up a phone so we have one on the premises," Whitesell said. They have donated most of the cost and the monthly bill is very low."
The food bank's hours and other information can be obtained by calling the number. Distribution is twice a week for food bank and commodity items and each family may utilize the food bank one time per month.
•
For details call the above number, see the Facebook page or log onto http://www.camasprairiefoodbank.org/.