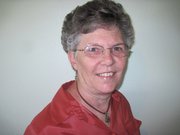 COTTONWOOD — Happy Easter to everyone! I hope you have a wonderful day. Schedule is as follows for Holy Week Services at the Tri-Parish churches:
Holy Thursday, April 17 — Assumption 5:30 p.m., St. Mary's 7:30 p.m.
Good Friday, April 18 — Stations of the Cross at noon at St. Mary's; Celebration of the Lord's Passion, Assumption 5:30 p.m., St. Mary's 7:30 p.m.
Holy Saturday Easter Vigil, April 19 — 8 p.m. St. Mary's.
Earth Day is April 19
COTTONWOOD — City of Cottonwood Earth Day is April 19 at the Cottonwood City Park at 10 a.m. immediately after the Easter egg hunt. Jay Hinterlong will be there handing out information courtesy of Idaho County Recycling. Come and learn all about recycling. There will be free hot dogs from 11 a.m. until 2 p.m. All city residents, businesses, organizations and schools are encouraged to participate. Give Jay a thumbs up for all the work he and his crew are doing for our recycling project here in Cottonwood.
Easter Sunday Morning, April 20 — St. Mary's, 8 a.m. - Father Paul; Assumption, 9 a.m. - Msgr Schumacher; St. Anthony, 10 a.m. - Father Paul.
The Tri-Parish youth group will be selling cookie dough for the next four weeks. All proceeds will go to the mission trip to Haiti in 2016. Get your order in now.
Emmanuel Baptist is planning on hosting an Easter Sunday "Sonrise Service" at 6 a.m. which features the choir performing a cantata. There will be a breakfast provided afterward. We will continue with our regular Sunday school classes (all ages) at 9:45 a.m. and morning worship at 11 a.m. Everyone is welcome.
Greencreek Easter egg hunt will be Saturday, April 19, at 10 a.m. on the church grounds. There will be prizes in each age group as well as the golden egg prize. This is sponsored by the Greencreek youth.
Ferdinand Easter egg hunt is sponsored by the city and the residents of Ferdinand. It will be at the ballpark at 10 a.m. on Saturday, April 19.
Renovation of the room in the basement of the Cottonwood Community Hall is almost finished. Come and see the nice changes the city crew has made. It looks very inviting; they did a great job. Prairie Community Library will be using the room for a yard sale on May 17, athe day of the city yard sales in Cottonwood. Anyone wishing to have their own yard sale with us is welcome. The charge is $7 for a table. We will provide the tables. Contact Donna Wassmuth at 962-3561 or the Library at 962-3714.
There will be a citywide spring cleanup from April 15 through May 15 when a roll-off bin will be available at the city shop located on the corner of Idaho Street and 2nd South Street, which is on the way to Graves Creek Road. This roll-off bin is not intended for household trash, hazardous waste or animal waste. Contact Jay Hinterlong at 962-7170.