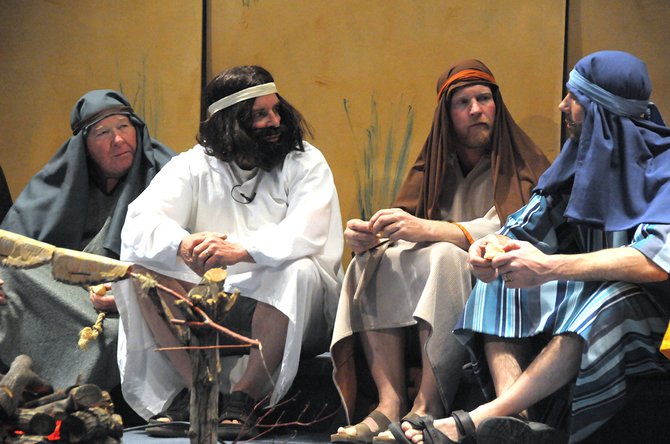 Masonic Lodge breakfast set for April 19 in Kamiah
KAMIAH — The Kamiah Masonic Lodge is once again hosting a free Easter breakfast Saturday, April 19. Join friends at the Masonic Lodge to enjoy a breakfast of pancakes, scrambled eggs, sausage, coffee and juice. They will be serving breakfast from 7 to 10 a.m. The Masonic Lodge is located at 709 Main Street, Kamiah. Donations are gratefully accepted. Contact Greg Johnson, 935-0840.
Good Friday service set for Christian Reformed Church
GRANGEVILLE — A Good Friday evening service will be held Friday, April 18, 7 p.m., at the Grangeville Christian Reformed Church.

An Easter Sunday morning service, April 20, will also be held at 10 a.m. Refreshments to follow the service.

All are welcome to attend. Contact Pastor Michael Gulotta at 983-0955.
Baptist church offers services
GRANGEVILLE – Mountain Shadows Baptist Church will offer a Good Friday service Friday, April 18, 7 p.m. Easter breakfast is set for Easter Sunday, April 20, 9 a.m., followed by Easter Sunday service at 10 a.m. All are welcome.
Kamiah egg hunt is Saturday
KAMIAH – An Easter egg hunt is set for Saturday, April 19, noon at Riverfront Park. Emergency Feeding Outreach will have chili dogs and baked goods for sale at this event.
Methodist church offers Easter services
GRANGEVILLE – The United Methodist Church in Grangeville will host a Maundy Thursday service at the Main Street church Thursday, April 17, 7 p.m. On Sunday, April 20, 11 a.m., an Easter worship service with special music by the choir, led by Wendy Lindsley, will be held. All are welcome.
Holy Week Services and free Easter breakfast offered at Trinity Lutheran
GRANGEVILLE — A variety of Easter services will be offered at Trinity Lutheran Church:
Thursday, April 17: Maundy Thursday Worship 7 p.m., with communion; Friday, April 18: Good Friday Worship 7 p.m.; Sunday, April 20: The Son Has Risen service 6:30 a.m., Easter Breakfast 7:30 a.m., Easter Sunday worship and celebration 9:30 a.m.
For information, contact Pastor Mike Musegades at 983-0562 or cell 451-6239.
Sunrise service set for Easter morning in White Bird
WHITE BIRD — Pleasant View Baptist Church will be holding its annual Easter Sunrise Service in conjunction with Mountain Shadows Baptist at 7 a.m. at the White Bird Battle Overlook on the grade. Following the service, breakfast will be served in the fellowship hall with the morning service at an early time of 9 a.m. Plans are being made for children's church for those who would like to come as a family. Children will have a special service following the morning praise time with the adults.
Live service, music set for Real Life Grangeville Easter service
GRANGEVILLE – For Easter Sunday, April 20, Real Life Grangeville's Pastor Mark Perry will preach the service topic, "One Good Story," starting at 10 a.m. at the Blue Fox Theater, which will include live music. Children's church (through the fifth grade) is offered in the adjacent Real Life kids' ministry building.
Contact pastors Mark Perry, 451-5709, or Traber Cass, 451-5787.
Services set for The Life Center
KAMIAH — The Life Center will be hosting a variety of upcoming Easter events.
Friday, April 18, 6 p.m., Debi Capito's testimony Life Group will be meeting at the church building. This will include music, worship, testimony reviews of previous meetings and the life testimonies of Steve and Connie Basaraba.
Easter Services will take place at the Lewiston location, room 100 in Meriwether Lewis Hall at Lewis Clark State College on Saturday night, 6 p.m. Call 819-9115, bigpapisbosox@yahoo.com. The Kamiah location will have a narrated musical drama depicting the life of Jesus. This service begins at 10:10 a.m. at 4432 Highway 12 between Kamiah and Kooskia. The Great Treasure Hunt for kids will follow the Easter Service at the Kamiah location. Orientation starts at noon in the main auditorium and the hunt will begin shortly after that.
Many area churches and Christians will be meeting at the Hog's Back on Woodland Road just outside of Kamiah for the annual Sunrise Service. This will begin at 6:30 a.m. and will include group singing, Scripture reading, poetry, music and an Easter message from Pastor Kevin Davis.
Contact Upper Clearwater Ministerial Association President Kelly Lineberry at 935-0362.
Kooskia egg hunt is Saturday
KOOSKIA – The annual Easter egg hunt is set for Kooskia City Park Saturday, April 19, 10 a.m., for ages up through 11. Bring an Easter basket. Many prizes will be available.
Nazarene services set
GRANGEVILLE – Grangeville Church of the Nazarene will host a Good Friday Service April 18, 6 p.m. Easter breakfast will be held at the church Sunday, April 20, 8 a.m., with worship service at 9 a.m. The service will include an Easter drama and music.
The church is located at 515 W. N. 2nd Street. Call 983-0552.
Riggins Assembly of God Church sets Easter services
RIGGINS – The Assembly of God Church in Riggins will host an Easter potluck breakfast at 8 a.m., followed by a worship and Easter service. An Easter egg hunt will be held during children's church for the kids. Release will be prior to 10 a.m. for the first leg of Sunday's Salmon River Jet Boat Races.
The church is located on Main Street across from the Salmon Rapids Lodge. Call Pastor Cliff Sheline at 630-4444 or look up on Facebook for details.
Event set for Kooskia library
KOOSKIA — A variety of events and presentations will be sponsored by the Friends of the Kooskia Community Library including Saturday, May 10, which is the date for the Spring Book Sale. Used books of all kinds, as well as CDs and DVDs, will be available at bargain prices. To donate, drop books off at the Kooskia Community Library during business hours. No magazines or VHS tapes. All proceeds benefit the Kooskia Community Library. The sale is set for 9 a.m. to 2 p.m. at the Kooskia Community Center.
Elk City celebrates Easter
ELK CITY — Elk City Baptist Church invites everyone in the community to our special Easter weekend activities. A Good Friday gathering is set for the church at 7 p.m., Friday, April 18, and after a short time of hymn singing, the film "The Cross" featuring Billy Graham will be shown.
A 7 a.m. service of praise, honor, and remembrance is set for Easter Sunday, April 20. After the service deacons will cook and serve breakfast, free for everyone. Sunday school will follow at its regular time of 9:45 a.m. and the worship service at 11 a.m.