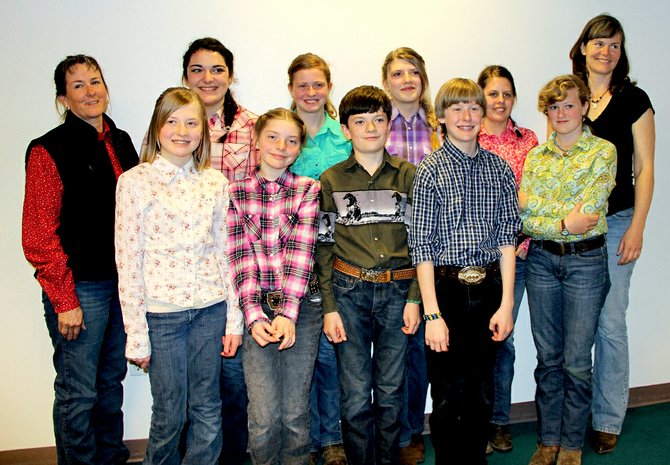 Photo by Lorie Palmer
Grangeville Church of the Nazarene members put presented an Easter drama Sunday, April 13. Part of the drama will also be presented this Sunday morning, Easter, 9 a.m. Pictured (L-R) are Larry Clark, Cory Thesan (as Jesus), Mike Hauger and Mike Murphy.
COEUR d'ALENE — The Hold Your Horses 4-H Club Senior horse bowl team came away the winners of the 2014 District 4-H Horse Bowl Contest held Saturday, April 12, in Coeur d'Alene. The Hold Your Horses 4-H Club Junior Team placed second in its age division.
The 4-H Horse Bowl competition is held each spring for 4-H Horse club members. The bowl is conducted in a quiz bowl format with teams of four competing against one another. Questions related to the horse industry are presented to the participants. The first team member to buzz in with the correct answer scores points for his/her team; however, a wrong answer takes a point away from the team score.
The top three teams from the district competition earned a trip to the State Horse Bowl contest July 7 and 8 in Twin Falls. Winning teams at the state level will earn the opportunity to represent Idaho at a national competition.
Hold Your Horses 4-H Club – Senior Team consists of Paige Lindsley, Nichole Blackmer, Lauren Goldman and Rachael Stevens. Junior team includes Aidan Acton, Tristan Yocum, Molly Van Steenwyk, Clarissa Stevens and alternate Tobie-Paige Yocum. Leader for the teams is Molly Stowers.