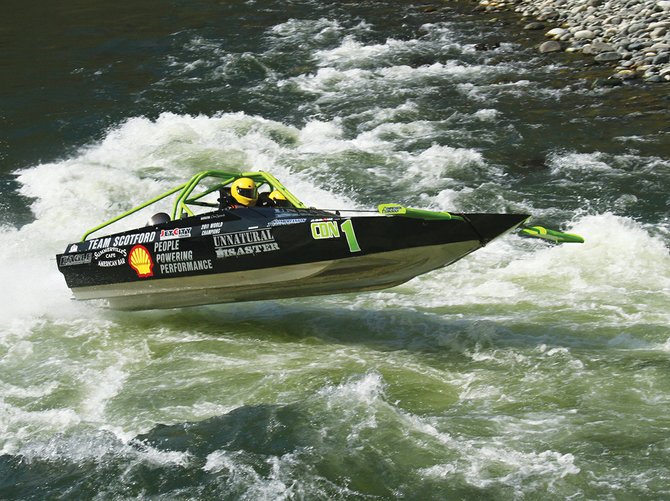 RIGGINS — Racing fans will line the banks of the Salmon River this Saturday and Sunday, April 19-20, to take in the sound and spectacle of jet boats topping out at more than 100 miles per hour.
In the highest classification, returning 2013 winner Gord Humphrey's Unnatural Disaster ran 10 laps in 49 minutes, 29 seconds, implying an average speed of about 96 miles per hour over the length of the eight-mile course from Island Bar to Lightning Creek, which includes tight turns, narrow gaps, and stretches of difficult water, notably in the rapids near Time Zone Bridge — a fan favorite place to watch and where one boat sank after crashing into a shoreline boulder last year.
(No one was injured; driver Trevor Yochum is back with a different boat.)
But the course also includes stretches where boats and drivers can pick up speeds much faster than 100 miles per hour, lifting the jet boats' noses enough to give the machines the appearance of leaping right out of the river.
Those in search of a closer look at the boats can find them at the show-and-shine barbecue: Friday night, April 18, 6:30 p.m. MT at Salmon Rapids Lodge, $10 adults, $5 for kids ages 12 and younger.
The 30th Annual Salmon River Jet Boat Races start at 10 a.m. MT each race day, with 16 jet boats in five classes set to run 10 laps apiece this weekend.
Details about the drivers are in The Shopper this week.