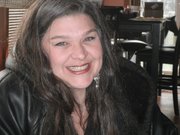 WHITE BIRD — The White Bird volunteer fire department spent last Sunday afternoon sharpening their skills. They lit a huge bonfire next to the creek at Dianne Crea's house. They made sure that the fire trucks and all their equipment was in working order, so that they are prepared for an emergency. The day turned into a nice gathering and barbecue at Dianne's. We are all so grateful for you people and we thank you very much for all that you do.
This weekend, on Saturday, will be the White Bird Easter egg hunt at the school. It starts at 11 a.m. and all children up to age 12 are welcome to join in and take a shot at finding that golden egg. This is a longtime tradition of White Bird, and we are so lucky to still be able to have this event at our school. There will be donation cans there for you to help support next year's hunt, so if you can spare some change, do.
There will also be a sign-up sheet for all registered voters who live in the 83554 area code being passed around at the Easter egg hunt. We are trying to turn the White Bird school grounds into a park and recreation district. In order to do that, we need your support. If you have any questions, feel free to call me or find me at the Easter egg hunt.
The final cribbage tournament will also be on Saturday. It starts at 2 p.m. at the Silver Dollar for all those who qualify. Next Saturday, you'll have to find something else to do, which won't be hard to do, because the weather is great!
The town is going to be hopping on May 3. Clear your calendar and come to White Bird.
The White Bird community library will be having an open house on May 3. There will be a book and bake sale. Stop in and support our wonderful library and all the volunteers who make it possible.
May 3 is also the day for the White Bird community yard sales. If you would like to have a yard sale, call Anna at 839-2700, so she can get your location on the map. If you live out of town and would like to bring your treasures downtown for the yard sale, Anna can help you out with that, too.
The Rebekahs will also be having their Cinco de' Mayo luncheon on May 3. It will start at 11 a.m. at the IOOF hall. You won't want to miss this! I'll say it again people, these women know how to cook! Come enjoy a fantastic meal and support your local Rebekahs.
You will also be able to get some good deals at Canyon House and the White Bird Antique store on May 3. Include these great stores in your day's events.
Those cute vintage trailers are rolling into town and filling up the Swiftwater RV Park. If you get a chance, go to the Swiftwater and introduce yourself to some really unique travelers. These people decorate their campers to the hilt and they are worth checking out.
The Rebekahs are also offering a scholarship again to local seniors who apply. I've forgotten the details; however, if you are a local senior this year, you need to call Lydia and find out how you can win a scholarship, 839-2446.
Happy birthday this week to: Ashley Schultz, Jarom Farmer, Diana Wilford, Renee Farmer, Dan Cook, Marion Gortsema, Kaleb Bass, Kevin Zumwalt, Jeff Ghan, Rob Tyson, Josh Bransford, Dick Brust, Bill Shuck, the fabulous Wendy Kunkel, Logan Eldred, Jacob and Jeffrey Hickman, Elizabeth Reidhead, and my beautiful cousin, Sherry Dawn.