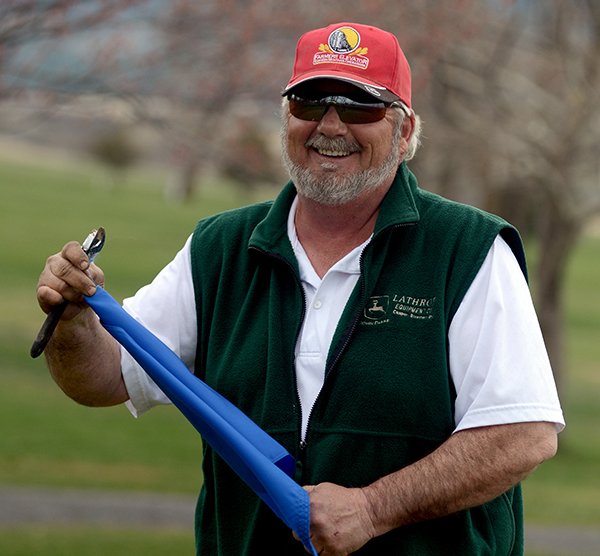 Photo by Andrew Ottoson
Ron Andrews, a professional greens superintendent whose background includes overseeing the grounds at a Miles City, Mont., golf course, started at Grangeville Country Club last month.
GRANGEVILLE — Ron Andrews has his work cut out for him. The man with 22 years experience tending golf course grounds in several states signed on as Grangeville Country Club's greens superintendent earlier this year.
"Our board of directors was very impressed with the wide range of experience that Ron brings to our community golf course," GCC board president John Bennett said. "He has performed essentially every job at a number of golf courses throughout the western U.S. and we are very lucky to have found him."
Andrews started at GCC in March and said his typical work day starts with mowing greens at 6 a.m., but usually involves a wide variety of tasks. Previously in construction, Andrews transitioned to the greens work in 1992 — an occupation that integrates aspects of agronomy, irrigation, plumbing, electrical and equipment maintenance. "It's not something you're gonna learn from a book," Andrews said.
Even so, Andrews went to school to speed up his certification, completing a 300-hour internship. He since kept up membership in multiple professional greens superintendents associations.
Having gained professional certification 18 years ago, Andrews has since tended courses in several states, most recently Miles City, Mont. — previously in Rupert, as well as Brookings, Ore., and Douglas, Wyo.
The short drive to wealthy rivers was a big factor in his decision to move to this area. He and his wife of 42 years, Laura, have not yet decided whether to buy a house or build one. They raised two children – Conan and Christie – and now have six grandkids and four great-grandchildren.
"My first memories were there on the Salmon River screaming bloody murder with a chinook on the line," he said. "When I'm not fishing, I'm prospecting. I'm serious about it."
His fishing hobby has rewarded him with a 27-pound chinook and a 21-pound steelhead in Idaho; for prospecting, he has dredges and high-bankers.
As for golf, he said he only plays when he has to.
"It's a good social game. It takes an awful lot of time to play, and it's one of the hardest games to master," he said. "I want my members to come play, have a good experience and have fun .… Our main goal is to make it a positive playing experience. We're excited."