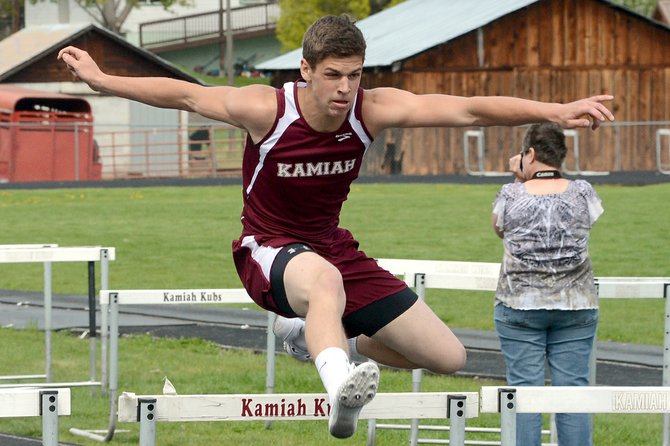 Photo by Andrew Ottoson
Kamiah's Chris Pethel won the 300 meter intermediate hurdles last Saturday, April 19, with a time of 44.85 seconds; Pethel was the only KHS individual event winner on the boys side, but Kamiah's relays powered the male Kubs to the team title at their third home meet of the season. KHS is slated to host 11 teams at 4 p.m. Friday afternoon, April 25.
KAMIAH — The host Kubs, who surely had plotted sweeping the relays last Saturday, April 19, but were caught at 4x200 finish by Grangeville's anchorman and dropped the baton in the sprint medley.
Even so, Kamiah's arrangements of Taylor McCallister, Cody Langston, K.C. Richardson, Jason Lloyd, Jannik Koopmeiners, Chris Pethel and Parker Whipple powered a boys team victory with wins in the 4x100 and 4x400.
KHS edged Orofino in team scoring, 125-122, with Prairie (111) and Grangeville (109) close behind.
As seen in the bang-bang finish in the 4x200 — officially, Grangeville at 1:37.10 and Kamiah at 1:37.11 — a few hundredths' difference is distinguishable, but only barely.
So Kamiah's 4x100 (46.47) not only came in ahead of Orofino's (46.66) — the Kubs nearly duplicated the solid time they posted a week prior. Their 46.44 stands tied for the third best 1A quarter-mile relay time yet reported to athletic.net.
Individually, Pethel and Carson Beckman placed 1-2 in the 300 meter intermediate hurdles; Pethel and Koopmeiners placed 2-3 in the 110 meter high hurdles. Whipple placed second in the long jump, third in the triple jump and third in the high jump. McCallister placed third in the pole vault and Triston Lee placed third in the 3,200.
On the girls side, Kamiah's Brooke Eades won the shot put (35-11) and placed second in the discus (97-2).
The Whitepine League championships, originally set to go after the April 22 print deadline, were pushed back to 3 p.m. Monday, April 28, at Lapwai.
Up next, Kamiah is slated to host 11 teams at 4 p.m. Friday afternoon, April 25.
Arnzen, Spencer double-double
KAMIAH — Prairie's Lucas Arnzen and Peter Spencer (800 and 1,600) won two events apiece last Saturday, April 19, as Prairie's boys and girls teams both placed third at the Kamiah Invitational.
Arnzen added a second-place finish in the 100 to his 200 and 400 wins, posting times of 11.78, 23.98 and 52.95, respectively.
The PHS girls totaled 103 points including a 1-2 finish in the high jump by Brandi Gehring and Shayla VonBargen. Krystin Uhlenkott won the long jump and Mykaela McWilliams won the 100 hurdles; Keely Schmidt, VonBargen, McWilliams and Uhlenkott combined to win the 4x100 relay.
Heidi Holubetz placed second in the shot put, McWilliams placed second in the 300 hurdles and Uhlenkott placed third in the 200.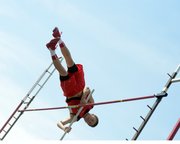 Pfefferkorn sets pole vault PR
KAMIAH — Clearwater Valley freshman Trey Pfefferkorn tacked a full foot on to his previous personal best in the pole vault last Saturday, April 19, popping an 11-6, which tied the 1A classification's third-best height reported to date.
Later that day, CV's Savannah McHone entered a four-way tie for fifth best girl's pole vault with a 7-0 height.