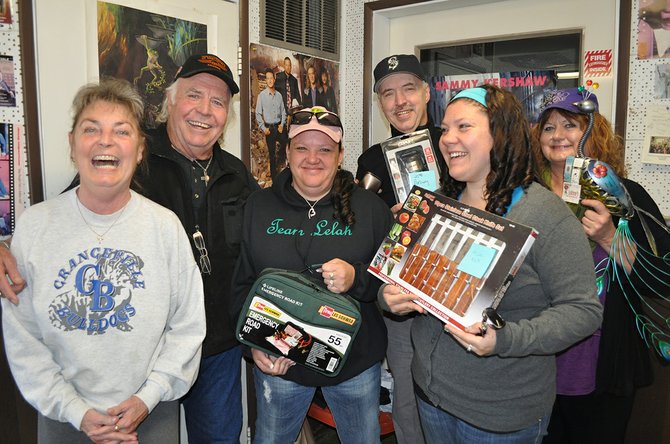 Photo by David Rauzi
2014 KORT Tax Clueless Refund hunt winners are (holding prizes at center; L-R) Daltina Ackerman and Tianna Williams. KORT staff are (L-R) station manager Melinda Hall, and DJs W. Alan Hall, Tino and Myra.
GRANGEVILLE – Mother-daughter team, Daltina Ackerman and Tianna Williams of Grangeville, were the winners in this year's 18th annual KORT AM/FM Tax Clueless Refund Hunt.
Actually there were three winners, as Williams has a "baby on board," she said, and is due Sept. 11.
Ackerman and Williams guessed the correct answer, "the front doors at Baza'R Shoe Store" last Thursday, April 17. The pair received more than $1,400 in prizes and gift certificates, provided by 44 area businesses.
This year's contest ran from April 7 to 17, taking 11 days to solve from clues provided twice daily on the radio. Last year's contest ran nine days until solved.
The list of contest sponsors is online: http://www.idahocountyfreepress.com/news/news/business/.