RIGGINS — Mayor McClure has proclaimed Monday, May 5, as Arbor Day in Riggins. City officials invite everyone to gather at the city park at 10 a.m. for the planting of a nice, new tree in the park for all to enjoy. Mayor McClure and the City Council have designated Monday, May 5, as "City Pride Day" encouraging everyone to pitch in and help spruce up our town for the summer season. The city will provide garbage bags for trash collection.
"66 years of Heroes and Legends" is the theme for the 2014 Riggins Rodeo which will be held the first weekend of May, Saturday, May 3, and Sunday, May 4. Cowboy breakfast will be featuring those yummy pancakes and eggs Sunday morning followed by the rodeo parade starting at 11 a.m. Contact Glenna McClure if you would like to enter a float in the rodeo parade…. yours truly, Jeannie Fitch will be announcing the parade with Buck and LeRoy helping keep me "lined up."
Jet Boat Races were exciting and scary all at the same time this weekend. There were 14 boats that started, but all did not finish. It was a beautiful weekend with the sun shining both days and the streets and riverbanks filled with people having a good time.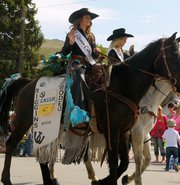 Easter egg hunt results: Winners named
RIGGINS — Easter weekend was busy here in Riggins. There were lots of kids hunting lots of eggs and prizes at the annual Easter egg hunt at Riggins Elementary School. The results of the Riggins Easter egg hunt: Gold egg winners which were big Easter baskets filled with lots of goodies were Everly Akins (baby – 2 yrs.), Boden Akins (3 yrs. - K), Chloe Anderson (1st/2nd grade), and Tazyrae Dischinger (3rd/4th grade). Silver egg winners which were big stuffed animals were Ivy Harper (baby - 2 yrs., Tucker Nelson (3 yrs. - K), Cassie Damon (1st/2nd grade), and Ethan Shaw (3rd/4th grade). Other winners of bigger prizes were Kaylynn Merrill, Devon Herzig, Charlee Hollon, Colton Brundage, Mortaki Klaudt, Sasah Olson, Tenesee Hollon, Kiva Miller, Stetson Price, Rylie Walters, Madi Pottenger and Ricky German. Kudos to the organizers, the Riggins Elementary and ASK staff, and to the local businesses who donated money or prizes.
Christy Frisby, daughter of Guy and Cindy Carlson, placed in all three women's events last month at Jackson hole's 39th World Champion Hill Climb. Here are the results! Christy was the only woman to go over the top last month and only the fourth woman to ever do it! Her sister, Niki, reports, "She did very well and it was really exciting to watch." She placed first in women's improved, second in women's stock, and second in women's mod.
Patsy Murphy reported that the "Tin Man" Fritz just returned with $490 from aluminum can recycling here in Riggins. Patsy, with the help of many Salmon River community people, has collected $21,811 since 2000. Thanks for your diligence, Fritz and Patsy. Funds will go toward a new ambulance.
Walla Walla Community College has been working hard to put together a wine tour June 5 and 6 at a cost of $75. Let Melissa Bryant know no later than Friday, April 25, if you would like to attend: 983-8302 or melisa@ida-lew.org.
Hikin' for Healthy Hooters walk/run will be held Saturday, May 17, starting at the Little Salmon River Lodge at 10 a.m.
The ASK kids are learning the process of quilt making. The Pinehurst Quilters are partnering with ASK to spread the joy of quilting. ASK needs sewing machines for the girls to use at ASK and at the Pinehurst Quilter sessions. Contact Rhonda Damon at ASK or Kathie Wright.
The Salmon River Community Church wants to honor our local military men and women who are currently serving in the United States military from our Salmon River area. We need names, ranks and birthdays. Call me or e-mail me that information. Thank you, and thanks to those serving our country.
Happy 70th birthday to my sweet husband, Buck Fitch, tomorrow, April 24! Our grandson, Ty McClanahan, turns 10 on the same day! Big birthday celebrations are in store for the weekend!