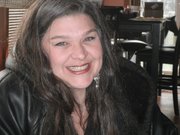 WHITE BIRD — We had the most beautiful Easter weekend. It's always nice to see those people who only come around once a year for the egg hunt. Connie and Bill Shuck, after 30 years, are retiring from organizing the Easter egg hunt. We all just want to say thank you very much for giving so much of yourselves to our little town. I noticed that someone lost a kite and it's hanging in a tree by the churches. I wonder how long it'll be there. The Paul family came down to the school, like they have for many years, for their family Easter gathering. It always warms my heart to see them out there playing baseball every year.
Speaking of that, we are trying to turn the school into a parks and recreation district, so that all these traditions, and an endless possibility of new ones will continue. We have a petition at the Canyon House and we need your signatures. If we have the school property for a community center, there are so many things that we can do with it. It will open up so many doors for our town! So, if you have any input or opinions, feel free to call me. I can't tell you how much I've enjoyed all of my "what if we did this" conversations I've had with people. There are so many great ideas out there and in the near future we will have another town meeting so we can dot the I's and cross the T's. I'll keep you posted.
Since there were so many people in town last Sunday, the jam session at the Silver Dollar was great fun. We danced, laughed and sang, and got caught up with old friends. All days are good days, but last weekend was a couple of those even better days. Feeling blessed and grateful.
There will be a Wally memorial at the Silver Dollar this Saturday. It will be a good ol' fashioned beerfest and potluck starting around noonish to 4-ish. Mary would like to invite everyone to come celebrate the life of a really great guy.
The Rebekahs are hosting their Cinco de' Mayo dinner on May 3. It will be at the IOOF Hall from 3-6 p.m. There will be wonderful home-cooked Mexican food that you really shouldn't miss. All proceeds from this dinner goes to their "heart fund," devoted to helping those in need. Come support our lovely ladies, who support you, and enjoy one of the best meals you'll have all year.
There will be a soup/stew cookoff on May 10. This is a fund-raiser for the Emergency Medical Relief Fund. It will be held between the bars. It starts as soon as you show up in the morning and judging will be at 2 p.m. Then shortly after, we all get to eat your nummy creations. There will be a beer garden and hooliganism. There's a sign-up sheet at the Silver Dollar. Get your name on the list and figure out what you'll be cooking up in your caldron.
White Bird Days is just around the corner and the 25th White Bird Days Rodeo. That's hard to believe, wow, 25 rodeos already. Where does the time go? So, start thinking about your parade entry and where your relatives are going to sleep when they show up.
The final cribbage tournament of the year brought in 24 people. Dee Dee got first, Mary won second and Janice got third. So that's it for crib for a while. It's time to spend your Saturdays in the garden.
Happy birthday this week to: Roberta Robie who has lived almost a century so far!, Gabriel Rhoades, Rebecka Reidhead, Willis Claar, Pat Wilt, Buck Fitch and his birthday present of his grandson Ty McClanahan, Cariol Dobbs, Cindy Huebner, Ron Moline, Ashlie Blair, Alfred Holden, Bert Tumelson, Brandy Trivitt, Bill Johnson, Ty Minter, Vicki McNevin, Aras Holden and Hank Palmquist.