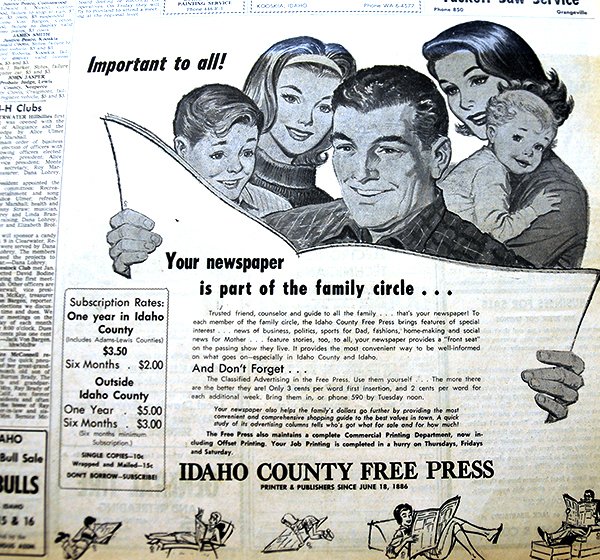 10 YEARS AGO
APRIL 21, 2004
•RIGGINS – Race champion and winner of the Idaho Cup in the weekend's annual Salmon River Jet Boat races were Duane and Gary Longfellow of Lewiston.
•GRANGEVILLE – Michelle Holmes is the new Grangeville U.S. Bank branch manager.
20 YEARS AGO
APRIL 21, 1994
•"Dirty Work at the Crossroads," as presented by the Riggins Recreation Department under the direction of Cory Raquet, played to standing room only crowds for three consecutive nights. The cast included Nancy Riggins, Drew Swope, Glenna (Roake) McClure, Jane Chavez, Caroline Friend, Fran Caward, Dawn Shepherd, Susie O'Leary, Russ Anderson, Shara Holland and Lindsey Rainwater.
30 YEARS AGO
APRIL 18, 1984
•Dave Hayes of Grangeville finished 12th in the Masters division of the Boston Marathon Monday despite the cold, wet and windy conditions which may have caused his legs to cramp at the 20-mile mark.
40 YEARS AGO
APRIL 24, 1974
•The queen for the annual Riggins Rodeo which will be held May 4 and 5 was crowned Saturday night at the Queen's Dance in Riggins and was Vicky Swedblom, White Bird. First runner-up was Marty Spickelmire, Riggins, and second runner-up was Toni Bower of Council. These three young ladies will reign over the two-day rodeo.
50 YEARS AGO
APRIL 23, 1964
•Rock, mud, snow and trees totaling some 50,000 cubic yards blotted out 400 feet of the Lewis-Clark Highway covering it with debris 40-feet deep in a near earthquake dimensions land movement Thursday deep in northeastern Idaho County and some 80 miles from Grangeville.
•Judy Hilbert, Cottonwood, was named outstanding young nurse of the year for Idaho.
60 YEARS AGO
APRIL 22, 1954
•Grangeville Gun Club will be host to Camas Prairie and Central Idaho clubs at the ham and bacon shoot.
70 YEARS AGO
APRIL 20, 1944
•Baptist Missionary Society women are planning their annual tea to celebrate the 50th anniversary of the establishment of the church in Grangeville.
•Barbara Maynard enlisted in the air WACs. Her husband is stationed in England.
80 YEARS AGO
APRIL 19, 1934
•CLEARWATER – The school pupils took achievement tests. At noon they cleaned the school yard and had a marshmallow roast at the bonfire.
•Blue Fox will celebrate the fourth annual anniversary with a vaudeville and dance. FK10 Radio Station, Spokane, will send Spokane's best talent.
90 YEARS AGO
APRIL 24, 1924
•A new voting precinct to be known as Marshall Lake has been created by the board of county commissioners, out of the Warm Springs precinct. This makes 51 voting precincts in Idaho County.
100 YEARS AGO
APRIL 23, 1914
•The school board elected Mary McIntee as librarian and Miss Zadie Keith, domestic science teacher.
110 YEARS AGO
APRIL 21, 1904
•Information comes from Salmon River that the river is rising very fast from melting snow, and has washed out the pack bridge at Clarys, and the new wagon bridge erected by Oscar Rhoades, also causing discontinuance of placer mining operations along the river.
120 YEARS AGO
APRIL 20, 1894
•Photographer Hanson started to Elk City, Tuesday to photograph the Chinese who intend to register. On his return he will proceed to Warrens on similar business.
•Tom Holmes broke a rib while attempting to climb an eight foot stake and rider fence with a heavy pole on his shoulder Monday. He fell to the ground with the pole on top and was quite severely injured.