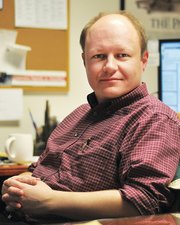 As the Sesame Street song goes, "One of these things just doesn't belong." This is the case with a piece of hype stating the Clearwater and Lochsa rivers as among the top 10 endangered rivers.
This month, Idaho Rivers United (IRU) highlighted an annual list released by American Rivers, a national conservation group, stating the Clearwater and Lochsa as 10th in their top 10 of rivers at critical tipping points due to the threat of industrialization.
Take a look at that list online (http://www.americanrivers.org/endangered-rivers/ )and you'll see a variety of threats to these U.S. rivers from dams and levees, threats of pollution, water diversions and also industrial development. All of this is fairly weighty stuff that – if American Rivers' representations are accurate — poses long-term changes and impacts to these waterways.
And then there's our little neck of the woods, threatened by "huge megaloads bound for Canadian tar sands onto narrow roads beside the rivers," according to the listing. IRU notes the loads as creating a visual blight when parked in turnouts along U.S. Highway 12, that their transport interferes with normal highway traffic, presents numerous safety hazards and degrades visitor experiences.
"Wild and Scenic protections were established by Congress to prevent this type of activity in America's revered river corridors," according to an IRU release.
Not quite.
The National Wild and Scenic Rivers Act protects against development that would substantially change a river's wild or scenic nature. Such sections are preserved in their free-flowing condition and are not dammed or otherwise impeded. It also protects against bank and channel alterations that adversely affect river values, and protects riverfront public lands from oil, gas and mineral development.
The oversized loads (or "megaloads" if you're a drama queen) transported along these rivers do not create the substantial changes to the landscape or the industrial/commercial development at issue in the act. They are consistent with the commercial use traffic that has traveled this highway since its creation, which predates its designation as "wild and scenic." And, in comparison to the tonnage of fuel, chemicals and other hazardous material that regularly traverses U.S. 12, the oversize loads – hunks of empty steel – are environmentally safe in the extreme. They are the slowest moving industrial load on the road, escorted by multiple private and Idaho State Police vehicles to ensure safety and minimal traffic disruption, and they travel at night when U.S. 12 traffic is virtually nonexistent. Their transport along U.S. 12 is uncommon, and when not en route they are parked off in highway pullouts for usually less than a week, apart from weather delays.
We could chew this old cud over and over about these loads, but the worst case scenarios of an oversize load accident still don't match the actual chaos — real, legitimate concerns — we've actually witnessed on U.S. 12 throughout the years: tanker truck crashes spilling thousands of gallons of diesel, and the inevitable traffic fatalities due to speed, inattention or impaired driving.
The American Rivers listing for the Clearwater and Lochsa rivers, as compared with the rest of its top 10 list, is a farce. What's truly at issue for these conservation groups here is their opposition to the Alberta tar sands projects, and this designation is part of a backdoor attempt to stop that development by choking its supply line to death.