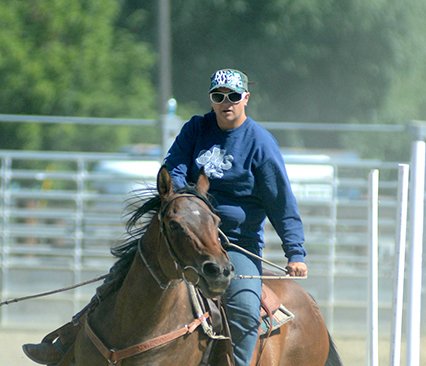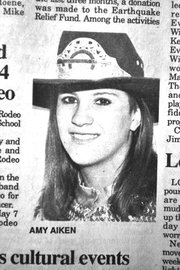 GRANGEVILLE — "I think being rodeo queen really boosted my self-confidence," said 1996 Grangeville High School graduate, Amy Aiken Farris.
"I was never afraid to try and once I got past the fear of public speaking ... well, let's just say I am not afraid to talk anymore," laughed the now-wife of Jeff Farris and mother of two.
"I had an amazing support system. My parents [Ray and Ellen Aiken] made sure I always had what I needed, always took me where I needed to go and my brothers spent a lot of time helping me become a better rider and Karen Wisdom always made sure I looked good — she made all my shirts," Farris recalled.
Jeff Farris of Nezperce and Amy were married in 1999. In 2001 the couple welcomed twin girls, Macenzie and Micaela. They moved to Benton City, Wash., when the girls were 3. The family stayed there until half-way through the twins' kindergarten year and they moved back to Grangeville.
"We really tried hard to like it there but everything we loved to do was in Idaho County," Farris said. "I am a daddy's girl and I loved being closer to my parents. My husband and my dad always worked away from home so my mom has always been my support system whenever I have needed her. I like the fact that everyone here looks out for each other and I feel safe knowing that there are people looking out for me and my girls. I like the small town feel and my kids are not just another face in the crowd, they are recognized by their peers and teachers for their accomplishments."
"I wouldn't want to live anywhere else," she added. "We feel safe and we are pleased with how our kids do in school — they get the attention they need to succeed. My girls have really liked every one of their teachers but one has really made them love school and believe in themselves: Steve Wassmuth has had them in classes for four years and I firmly believe that he has really impacted their lives to be amazing. You just can't get that anywhere else."
Farris fells her experience as Riggins Rodeo Queen 20 years ago have helped in many ways.
"I am a major supporter of my kids, I volunteer as a 4-H leader, I organize the softball program for Grangeville Youth Baseball and I am never afraid to speak up if needed," she smiled. "Even now my parents and brothers continue to be supportive of me."
Farris has also passed her love of horses down to her girls. Micaela and Macenzie have been riding since they were 2 but didn't start competing at local rodeo events until they were 5. They are both members of the Triple Bar Drill Team ("Which was a blast from the past and brought back lots of memories for me, also a member years ago," Farris said.)
"I still like to trail ride and compete in O-Mok-sees — it just hurts more than I remember," she laughed. "Most of my time is devoted to my girls and all of their activities but every year for Mother's Day my hubby loads my horse and I go for a ride."