Photo by Lorie Palmer
Esther Morrow of Harpster is shown here with a book of veterans she has compiled with the help of her late husband and other community volunteers.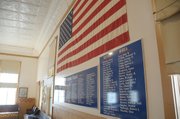 HARPSTER – An undertaking started more than a decade ago is coming to full fruition.
The Patriots Wall at the Harpster Community Building will be dedicated May 18 and now includes the names of Harpster area veterans from the Civil War through the Vietnam conflict.
"This was started by Don and Esther Morrow in 2002," explained community volunteer Jan Adams.
"They worked tirelessly on this," added Nancy Charley, also a volunteer and Harpster resident.
Esther, now in her late 80s, said she and husband Don – "he was the true historian," – worked on the original sign which hangs at the community building and includes the names of Harpster area Civil War, WWI and WWII veterans.
"That's what we started with at first and Don did a lot of research in the Free Press archives and got a lot of information," Esther said. Details were also turned in from families and Morrow has compiled biographies of nearly every veteran in a book.
Don died in 2011 and Esther said she has been determined to "finish the project."
"It's been on my bucket list," she laughed. She started adding Korea and Vietnam veterans, had another sign made and is in the process of compiling the biographies and photos of those men and women.
Esther used a computer in the early 2000s but health issues for her and Don caused her to stop and now she types or writes out information. She is making an extra book: one will be kept at home and one at the Harpster Community Building where community members can feel free to read through it.
"I definitely don't take all the credit for getting this together," Esther emphasized. "It's all volunteer work and it gets passed down from one generation to the next. We have a wonderful community of volunteers who care about history and about our veterans."
Esther moved to Idaho from Nebraska when she was a young teen. The family ended up living at a way station along the Elk City Wagon Road. She graduated from school at Kooskia and then attended Linfield College in McMinnville, Ore., and Lewiston Normal School. Throughout that time she worked at the Idaho County Courthouse in the clerk's office working with taxes. She later taught elementary school in various towns including Grangeville, Stites and Kooskia. She taught and substitute taught until 1972 and then worked at the courthouse again. Don was born and raised in Harpster and graduated from Kooskia High School. He worked for Lockheed Aircraft Company in Los Angeles and later at Boeing Aircraft Company in Seattle, Wash., until the outbreak of World War II at which time he enlisted in the U.S. Army Air Corps. He was stationed in the European Theatre of Operations where he flew more than 60 combat missions in the 409th Bomb Group as an engineer gunner on a A-20 Havoc medium bomber over German occupied Europe. After he returned to Harpster, he worked at Cox's Sawmill then for Potlatch as a mechanic at camps 14, 58 and 60. He and Esther were married in 1947.
As Esther thumbed through the stories of the men and women veterans she recalled the Civil War veteran Dr. Sheehan: "He gave $400 to purchase books for the Harpster School," she said. Another veteran whose story is close to her heart is that of Jack Oscar Chandler: "He was in my class at high school but he didn't get to graduate because he was drafted through the Selective Service. He died at Iwo Jima at the age of 19." Another veteran, a boy Esther taught in school, has a difficult time speaking about his Vietnam experience, she said.
"This is why we need to remember and be reminded of the sacrifices," she patted the book. "Everyone has a story and a family and a history. We cannot forget them."
The pre-Memorial Day celebration and Patriot Wall dedication open house is set for Sunday, May 18, 2:30 p.m.